Mar 2, 2021
Where to find Peach blossom?
Any recommendations where to see some peach blossom in the Kanto area? I usually visit Koga for its peach blossom festival, but would like to see other areas too.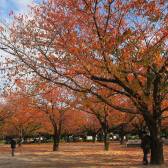 I´m a german girl living in the center of Tokyo, but my true love belongs to the countryside of Japan (especially Chiba and Hokkaido). I love traveling in Japan and explore hidden areas.
I want to help people with my articles to get in touch with the Japanese culture and all the beautiful places you can explore.

Follow me on IG https://www.instagram.com/nihonbluebutterfly/?hl=de
Besides traveling around, I love trains, handcraft and my little rabbits.
3 Answers
---
Best Answer
I'm sorry I am late to answer. Definitely Higashichichibu, it is quite rightly nicknamed "an earthly paradise" but unfortunately they are passed their peak now. They were way early this year. https://insaitama.com/earthly-paradise-hanamomo-no-sato/

0
Sakura Castle Park in Sakura City is famous for its cherry blossoms, but there are groves of peach trees. Same with Izumi Park in Chiba City.

0

I've heard good things from friends about Fuefuki City in Yamanashi: https://www.yamanashi-kankou.jp/foreign/english/spot/p1_4266.html It's still on my bucket list! :)

0