Feb 26, 2018
Yanesen mixes tradition, art and community in antidote to Tokyo mayhem
A visit to Yanesen in the north of Tokyo is to experience a side of the Japan capital away from the hallucinogenic neons, mad pop culture, screaming tech and bulging crowds. The districts of Yanaka, Nezu and Sendagi are home to quiet shrines and temples, among the most beautiful in the city, and neighborhoods that blend the best of old-world "shitamachi" with community-conscious modern living and an appreciation for art and tradition.
Yanesen is a fantastic area to explore on foot -- fun to get lost in but easy to find your way out of. Even with just a half-day to spare, perhaps tagged onto a few hours in Ueno, a visit to Yanesen is truly rewarding and a side of Tokyo that still relatively few will experience.
This Yanesen course takes in the best of Yanaka, a visit to Nezu Shrine and a final stop at Yushima Tenman-gū, not striktly "Yanesen" but in keeping with the theme of the area. The area is perhaps best accessed by via Nippori Station north of Ueno Park.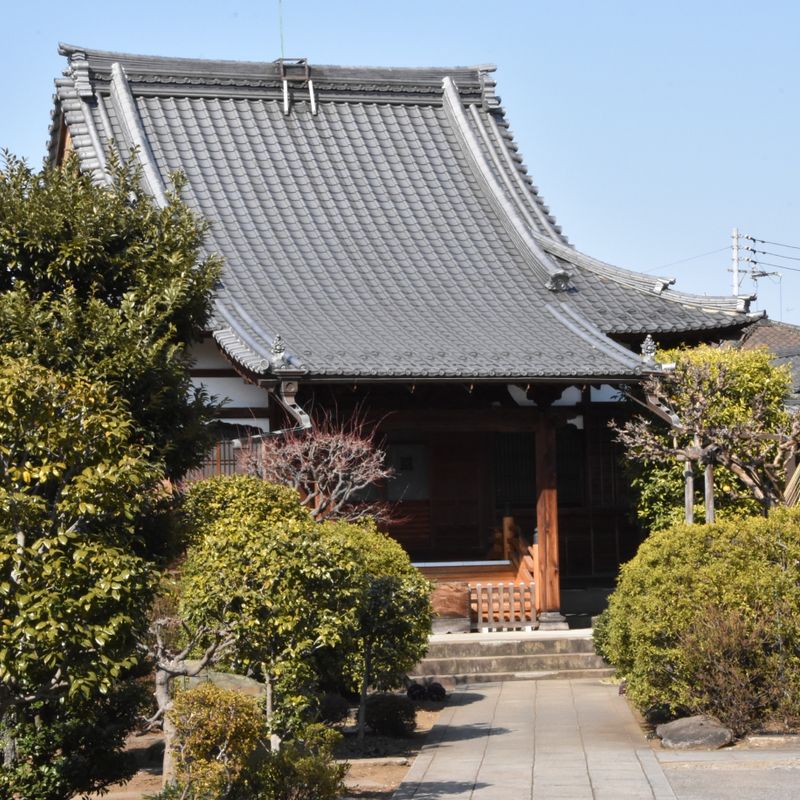 Yanaka
Yanaka is often touted as a great place in Tokyo to experience the old-town "shitamachi" atmosphere, the beating heart of the Edo era which would actually have been rough, rowdy, and ready to let the good times roll among the working classes. In fact, if you really wanted to experience the modern-day equivalent of shitamachi perhaps a night out in Roppongi or Kabukicho might be better.
What Yanaka seems to have done is to have filtered out the grit and grime of old-world struggle and blended what remains into a kind of urban, leafy and rustic suburbia. Shitamachi is here but it's in the artisanry, ceremony (there are over 70 temples and shrines in the area hence its moniker "Teramachi" or "Temple Town"), traditional eateries, quiet lanes and the strong, yet warm sense of community that it reveals itself. In fact, perhaps the most significant indicator of its presence lies exactly in the absence of the booming chaos, screaming tech, and hallucinogenic neon for which Tokyo has become synonymous in the minds of many.
Well, Yanaka is arguably the antithesis of this -- it is, without doubt, one of the most pleasant, easy, and rewarding places to explore in the Japan capital, a testament to the community that watches over the area.
While Yanaka lends itself to an aimless wander, a rough circuit will ensure visitors get the best of the area.
Starting from the north exit of Nippori station, take a left onto Goten-zaka which ambles uphill past the temples of Hongyōji and Kyō-ōji on the right. The main gate at Kyō-ōji is still scarred with bullet holes from the Battle of Ueno (1868) when shogunate troops took refuge in the temple from the Imperial Army. Both temples are typical of Yanaka, beautiful yet unassuming, blending perfectly into their surrounds. There are many more to explore though, so don't get too hung up here.
At the crest of Goten-zaka the street forks with the right prong offering a great view down to Yanaka Ginza, a narrow street ironically named after its more illustrious "brand-heavy" counterpart, and the center of the area's shopping and dining. Full disclosure though, shopping is all that Yanaka Ginza and Ginza have in common, otherwise they are worlds apart.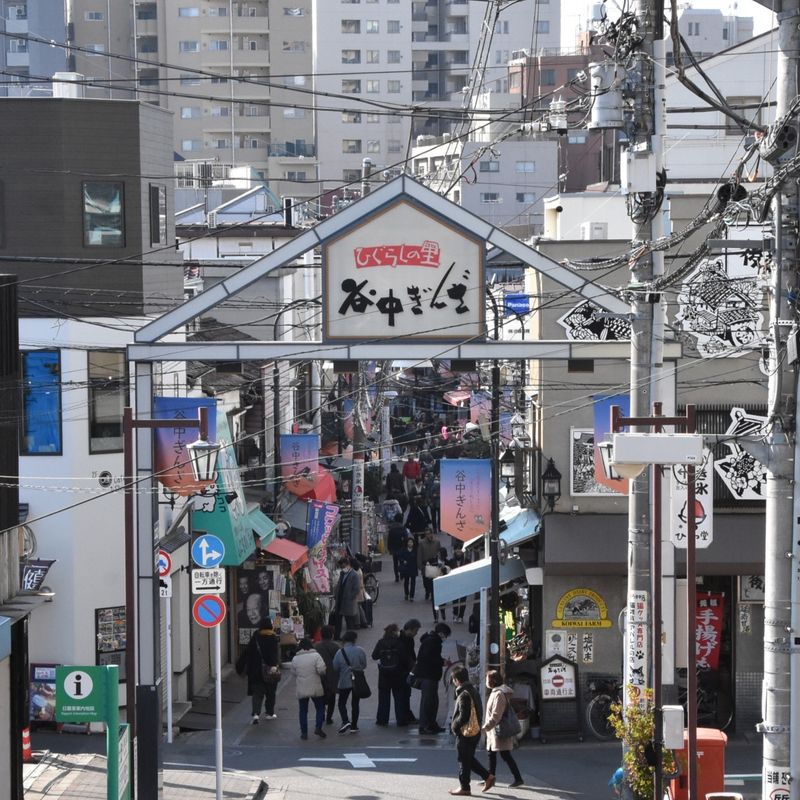 Yanaka Ginza is a charm, if a slightly bonkers one. There seems to be little consistency as to what is sold here -- shoes, clothes for grandma, greasy snacks, booze, charms, souvenirs twee and tacky, art, fruit and veg, fish, meat and more all line a 175m street whose buildings seem to overhang in an atmosphere that is more medieval than shitamachi. The people here are an interesting mix too, old-timers from Yanaka shop for their sundries alongside visiting Tokyo locals and travelers from overseas.
Away from Nippori station, this is about as busting as Yanaka gets.
At the western end of Yanaka Ginza the Yanesen Tourist Info. & Culture Center offers guided tours of the area and hands-on experiences with traditional Japanese culture like kabuki, calligraphy and even crash courses in the subtleties of Japanese manners.
Most of Yanaka's temples lie in the blocks south of Yanaka Ginza stretching as far as Ueno Park.
This is an area of quiet lanes along which temples peak from behind stone walls and charming gates, while rickety wooden stores and restaurants brush shoulders with buildings reformed into the modern home, the trendy cafe and the cultural space. This is Tokyo but not as many of us know it or have experienced it before.
Consider heading back up the steps from Yanaka Ginza to the crest of Goten-zaka and then taking the next right down the street past the Asakura Museum of Sculpture on your left. Most of the temples in this area are easier to access from here.
About 50m down from the museum a block of temples cluster together on the right. One of these includes Kanonji, a temple claiming a strong association with the story of Chushingura which tells of 47 samurai (akôrôshi) desperate to avenge the death of their master.
Take a left between this block and the next and things really get quiet with few people or cars around. The lanes here display traditional brickwork, plasterwork, and tiling of (but not from) the Edo Era offset by the rich red of the gate to Kanōin temple. The lane heading south from Kanōin will take visitors to Anryūji, a temple which houses the tomb of acclaimed artist, and court painter to the Imperial Household Agency, Kanzan Shimura. The narrow lane to the right after Anryūji leads to the back of Zenshōan from where you can peer up at the dazzling gold statue of Buddha standing 6m tall. Rumour has it that current Japan Prime Minister Shinzo Abe was a regular visitor to Zenshōan.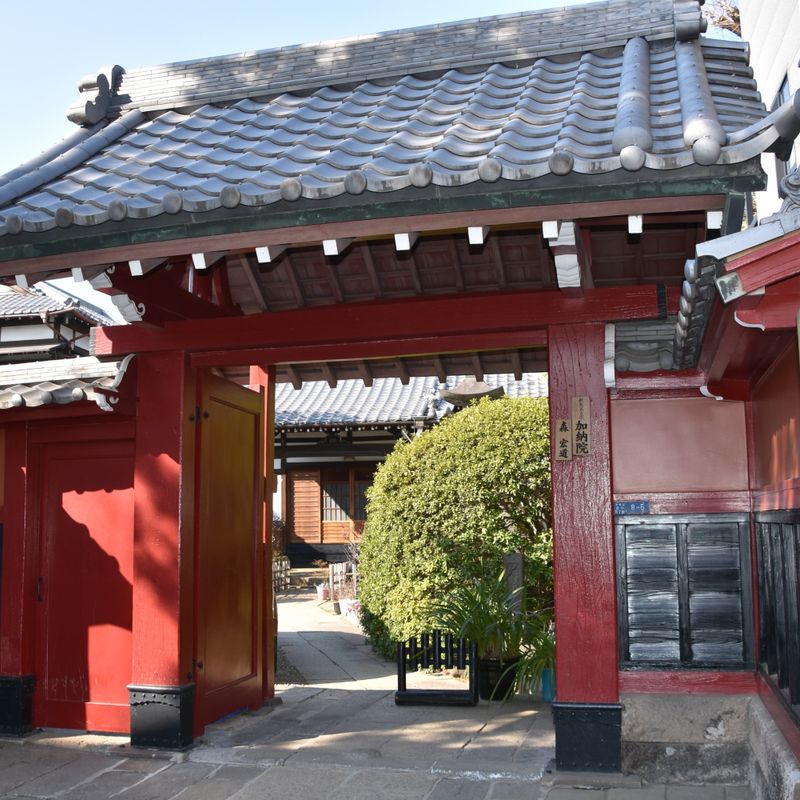 (Entrance to Kanōin temple)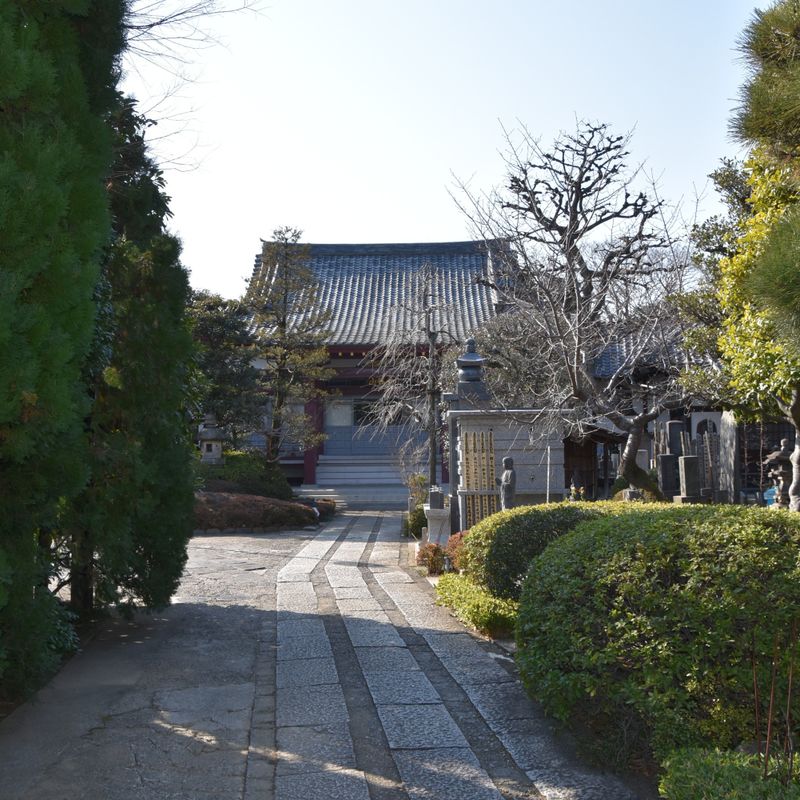 (Anryūji, Yanaka)
The busy street Route 452 bisects this area of temples between north and south. Plenty more lie in wait enroute to Ueno Park further south.
Loop back around and take the street sometimes referred to as the Higurashinosato Walk heading back towards Goten-zaka. Keep a lookout on your right for the Teramachi Art Museum and Gallery. This pint-sized space has a homely feel and exhibits are free to enjoy.
Further on, Space Oguraya is a former Edo-era pawn shop that now serves as a space for art exhibits. The building has been a Registered Tangible Cultural Property since the year 2000.
On the left the temple Chōanji houses the tomb of Kano Hogai, a 19th century painter who helped to establish the Tokyo Fine Art School (now the fine arts faculty of the Tokyo University of Arts, in Ueno).
Across the street from Chōanji another temple, Kudokurinji, appears as a model of Japanese minimalism and quite a contrast from the other temples in Yanaka.
Taking a right after Kudokurinji leads into the western edge of Yanaka Cemetery.
Yanaka Cemetery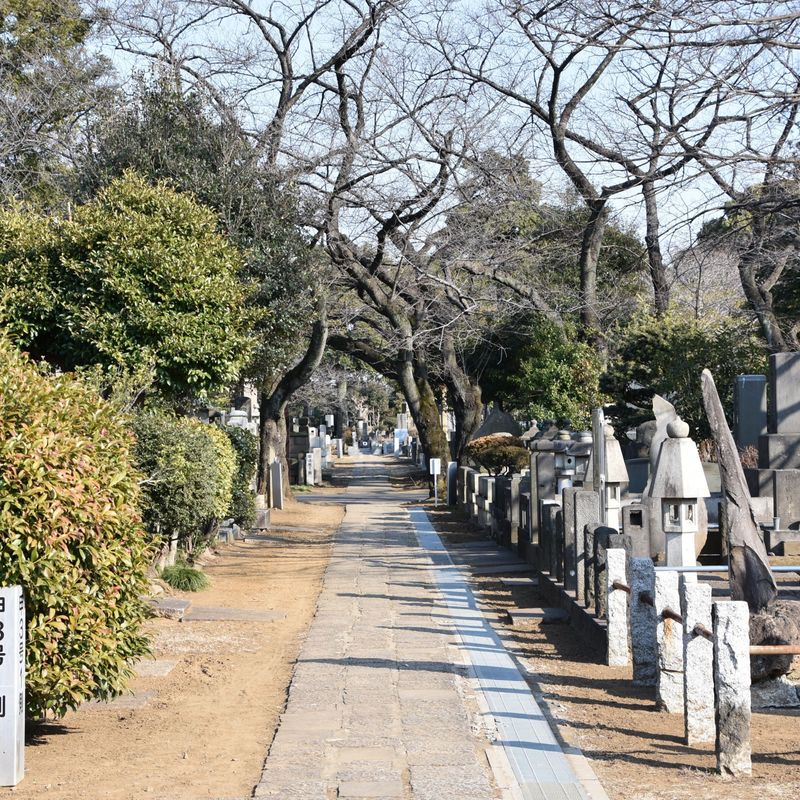 Covering an area of around 10 hectares, Yanaka Cemetery (Yanaka Reien / 谷中霊園) is the posthumous home to a collection of Japan's celebrated artists, actors, and literary types.
The cemetery was founded in 1874 and includes the graveyards of the temples Tennōji (northeastern edge of the cemetery) and Kanenji (the temple itself closer to Ueno Park).
While such a setting might seem an odd one for a pleasant stoll, Yanaka Cemetery is a quite delightful place -- quiet, serene, full of greenery and boasting of views to Tokyo Skytree, this is the Tokyo equivalent of the Père Lachaise Cemetery in Paris, France. Well-kept walkways wind through the myriad of tombs and graves here, many of which are elaborate constructions. The main artery of Yanaka Cemetery is Sakura-dori which, as the name suggests, is a popular spot for a walk among the cherry blossoms in late-March, early-April.
Perhaps the heaviest-hitting of the historical figures that rest here is Tokugawa Yoshinobu, the final shogun of the Tokugawa shogunate, itself the last of Japan's feudal military governments, that gave way to the Meiji Restoration in 1868. Yoshinobu's grave can be found in a gated area in the south of the cemetery laying besides other members of the Tokugawa clan.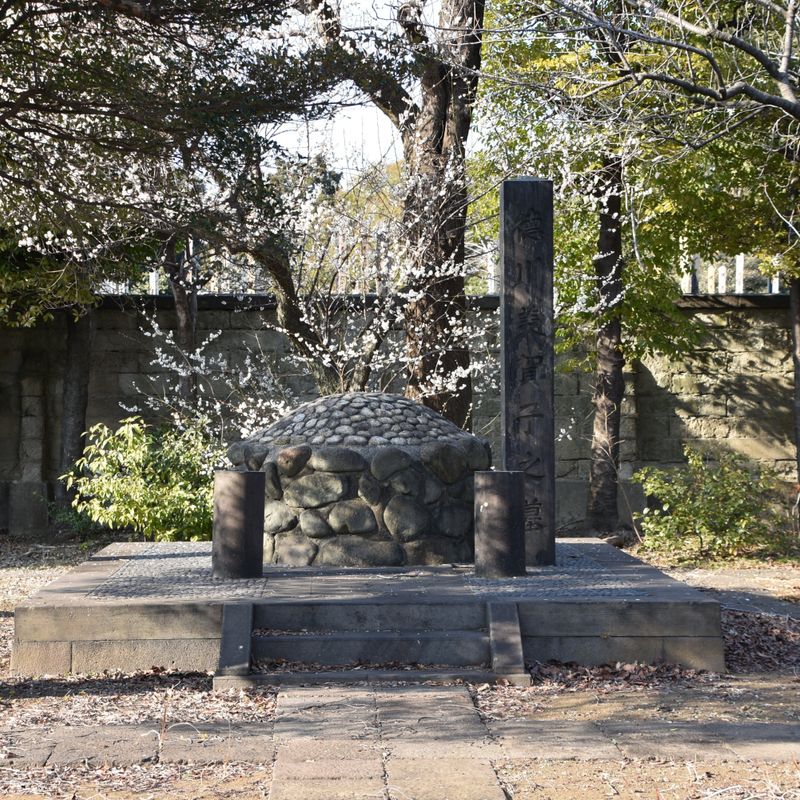 (Tokugawa family member tomb, but whose?)
Most of the maps and signs dotted around the cemetery are in Japanese but the main thoroughfares are never far away. Pick a direction, stick to it, and you'll hit one of them eventually.
Between the cemetery and Nippori station the temple of Tennōji could well claim to the be the most picturesque of all Yanaka's temples. It's also one of the oldest dating back to 1274. Despite its proximity to noisy Nippori Tennōji offers a wonderful sense of seclusion, surrounded by trees. The bronze statue of a plump, seated Buddha (Tennoji Daibutsu) was completed in 1690 and rounds off the scene perfectly.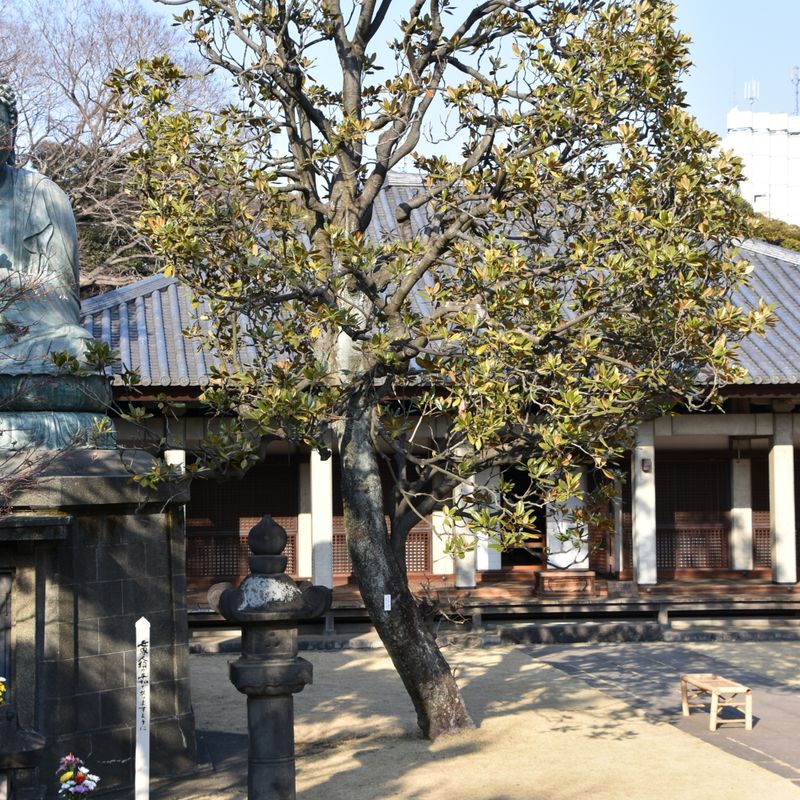 From Tennōji it's a short walk across a bridge of the train tracks towards Nippori station.
Nezu
Nezu (根津) is sometimes referred to as "Shokunin no Machi," or "Artisan Town" due to the large number of artists and creators who have lived here and continue to do so. Exiting Nezu Station (Metro Chiyoda Line) this artistic influence may not be immediately obvious, the streets of Nezu have a simple, functional feel which, although charming in their own way, don't strike as being artistic. However, east of Nezu's main north-south thoroughfare, Shinobazu Dori, visitors can find a number of small art galleries living side-by-side with quaint local stores, cafes and restaurants.
Perhaps Nezu's greatest artistic boast is in the form of Nezu Shrine (Nezu Jinja / 根津神社) which lies almost equidistant from Nezu and Sendagi stations and with easy walking distance of each.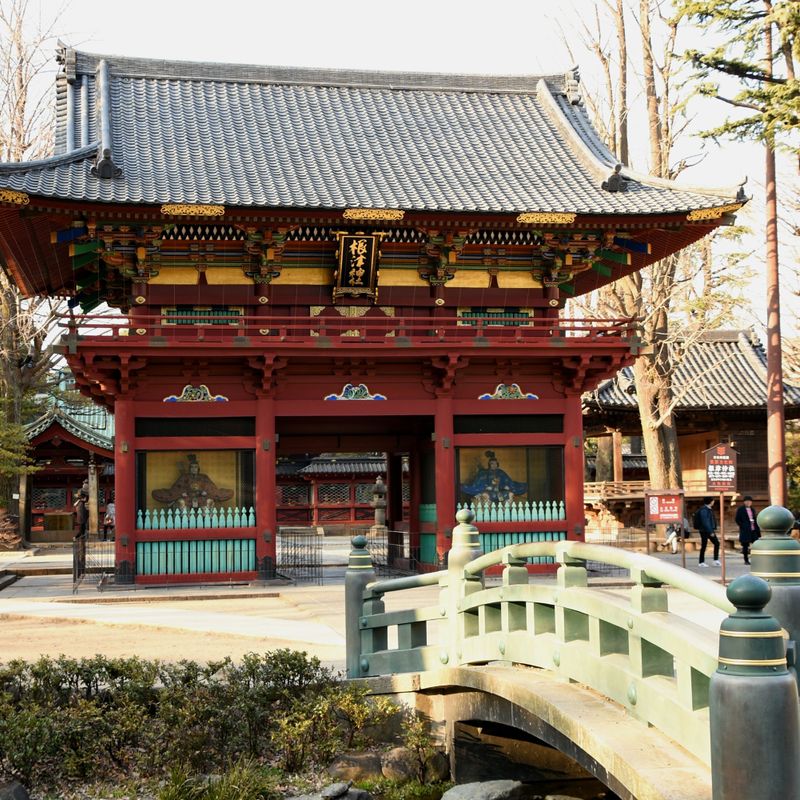 Nezu Shrine often ranks as one of, if not the most, beautiful shrines in Tokyo. Off the main road and surrounded by trees, a visit to this shrine almost has a magical, secret garden feel. Here the rich vermillion of the shrine's halls, gates and torii are a brilliant contrast to the soft greens of the vegetation surrounding it. This place is more Nikko than it is Tokyo.
But here it is though and has been for a long time (Nezu Shrine is one of the oldest in Tokyo). The current structure has been standing since the early 18th century with the shrine's history dating back nearly 2,000 years.
Perhaps the best effect can be achieved by approaching and entering the shrine grounds from the south (Nezu Station) from where you can take in the scene of the "Sacred Bridge" (Shinkyō) backed by the "Tower Gate" (Rōmon) before proceeding through to the "haiden," the "Front Shrine" (Haiden) and the "Main Hall" (Honden). The Front Shrine / Main Hall of Nezu Shrine are attached to one another and are said by some to be the most magnificent shrine structures of the Edo period. It's a bold claim but perhaps it stands. What's sure is that you won't need a grasp of Japanese history or Shinto to be bowled over by the artistic flourishes that garner the structure's frontage.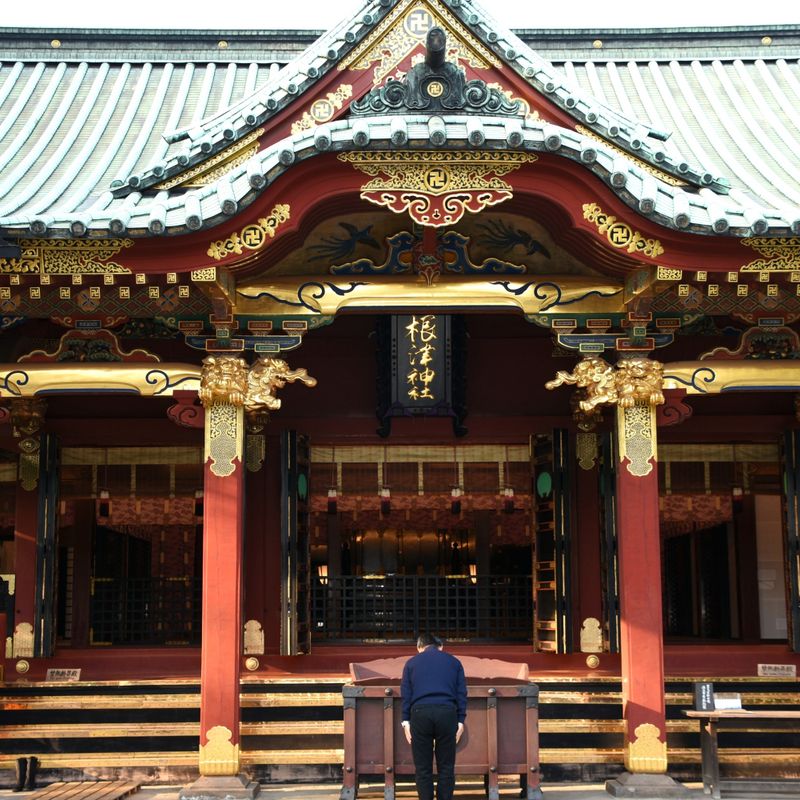 Undoubtedly Nezu Shrine's No.1 photo spot will be the long corridor of petite torri that flank the elevated banks in the west of the shrine grounds. Midway through the corridor a beautifully crafted viewing platform overlooks a pond of koi and the shrine's main structures some of which have been designated as Important Cultural Properties.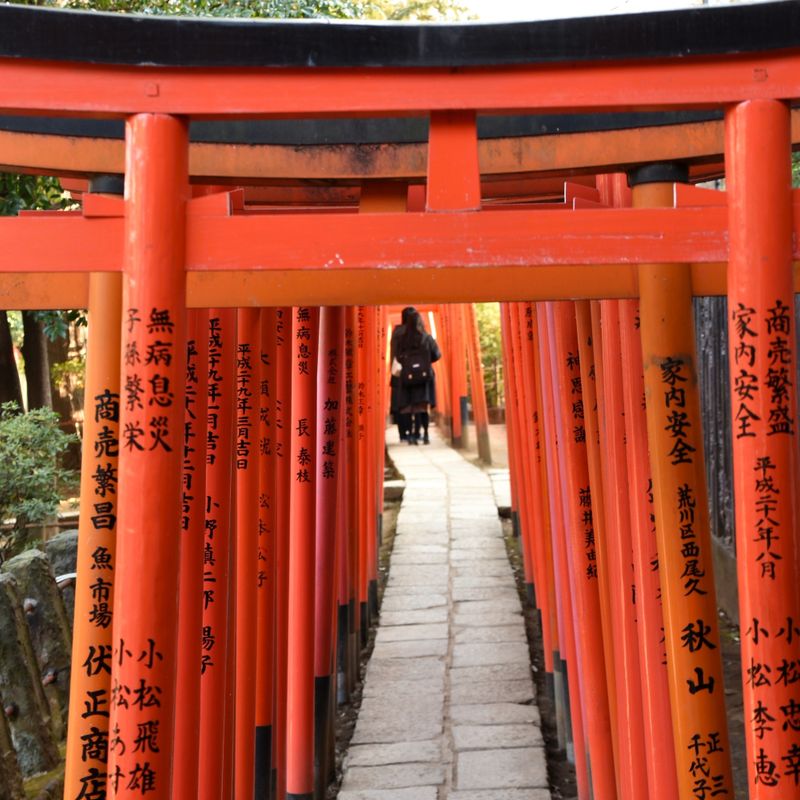 As important a religious and cultural resource as Nezu Shrine is, it's also remarkably quiet, especially when compared to, say, Sensoji in Asakusa or Meiji Jingu near Harajuku. Perhaps it's the location that serves to keep things this way. Whatever the cause, this is something to be celebrated (quietly) -- Nezu Shrine is, for now, free of tour groups and young travelers wielding selfie sticks.
All this changes in spring. Nezu Shrine is home to an azalea garden with some 3,000 flowers. When they bloom the scene is a remarkable one, but it also brings in the crowds. The annual Nezu Shrine Azalea Festival runs from mid-April to early-May, a time which will see crowds blooming almost as much as the flowers.
For those with legs, it's possible to walk from Nippori Station to Nezu Shrine. Otherwise, take the Yamanote Line from the former to Nishi-Nippori Station and change to the Metro Chiyoda Line for Nezu.
Yushima Tenman-gū
With energy to spare travelers to Yanesen could make a final jaunt to Yushima, jumping on the train for the next stop from Nezu (heading south).
In this unassuming neighborhood that grazes the southeast corner of Ueno Park you'll find Yushima Tenman-gū (湯島天満宮) a Shinto shrine that sits plump and proud on a steep rise above Yushima Station.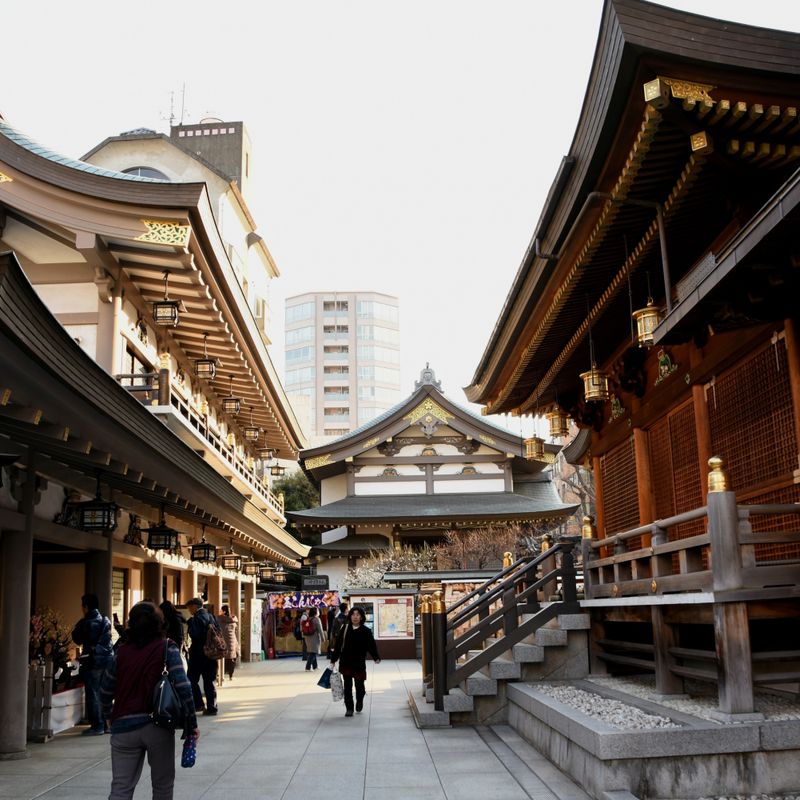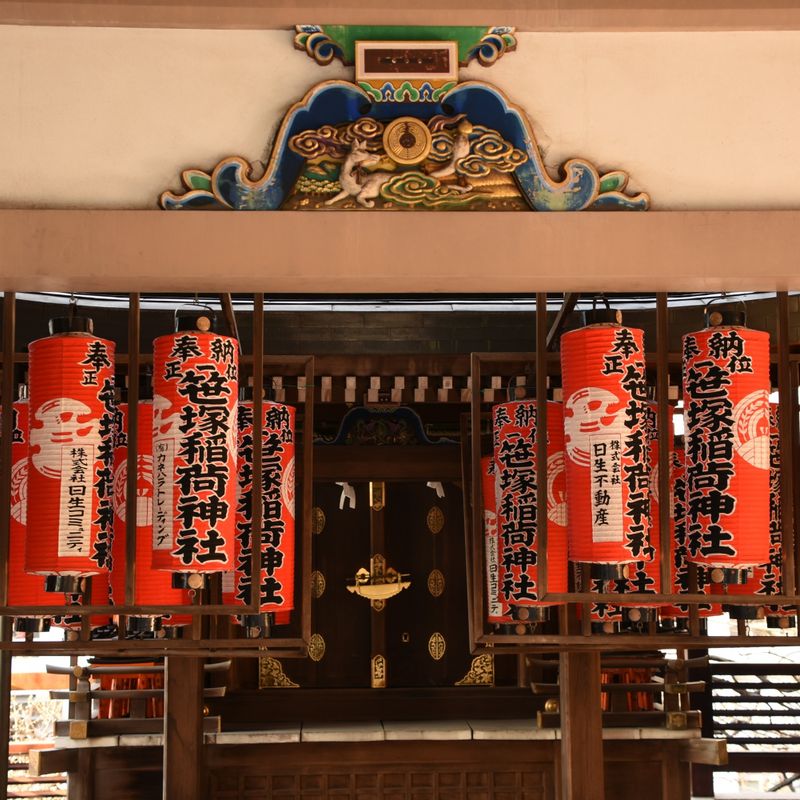 The shrine is also known as Yushima Tenjin, "Tenjin" being the god of learning. According then, this place is frequented by many a student looking cover all bases ahead of their exams. The thick collections of "ema," wooden tablets upon which appeals to the god are written, at Yushima Tenjin are testament to this.
Coupling a visit to Yushima Tenman-gū with Nezu Shrine is an interesting and rewarding one. Where the latter appears delicate, quiet and secretive, Yushima Tenman-gū is much more active and almost salt-of-the-earth. This is perhaps best displayed during the shrine's Rakugo Festival -- rakugo being a form of, often comical, Japanese storytelling.
Not that Yushima Tenman-gū isn't capable of delicacy. Come here in February to see the plum blossom and you'll see just how much so (although it does come with a side serving of booze and greasy food).
From Yushima Station it's nice to head over to Ueno Park (100 m to the north) and walk through here to the train stations of Ueno for onward / homeward transport, around half a kilometer away.
This post is supported by Lucky WiFi, one of City-Cost's Supporters helping City-Cost bloggers to enjoy life in Japan and engage in new experiences.
---