Mar 5, 2018
Tokyo food alleys: Robust food fun, massive servings of character
The concept of the Tokyo "food alley" is a loose one but what it essentially refers to is a narrow street (sometimes impossibly so) crammed on either side with tiny eateries and bars. These "food alley" joints typically serve grilled, greasy, no-frills food in an atmosphere that could best be described as robust and completely unpretentious. As such, expect plenty of smoke, high spirits and noise.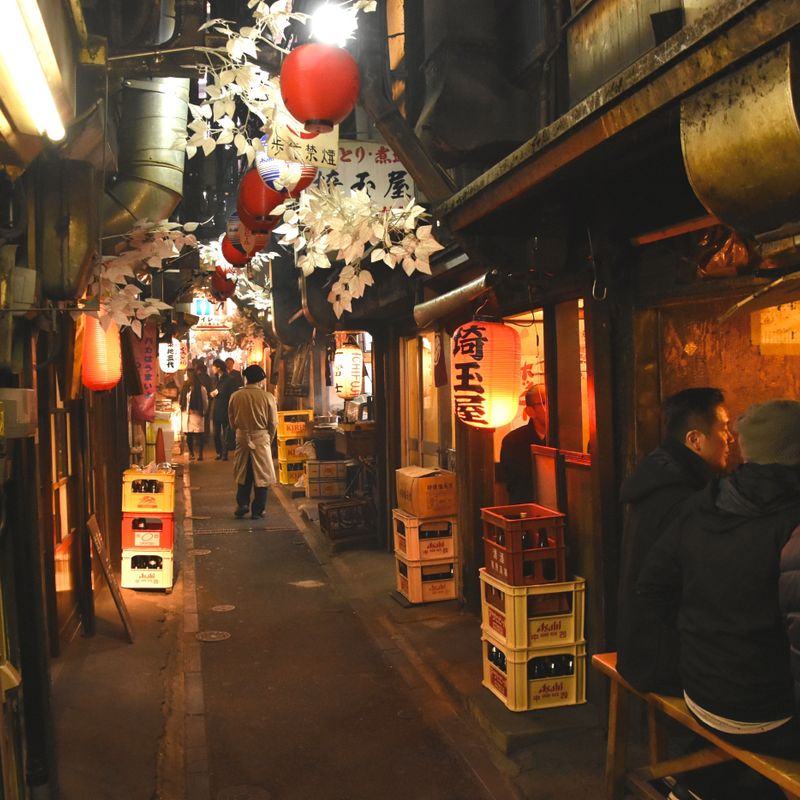 In the absence of much of a "street food" scene in Tokyo, the "food alley" experience more than makes up for this. If you like your food cheap and served with a massive dollop of character, head to one of the "food alleys" below.
Omoide Yokocho, Shinjuku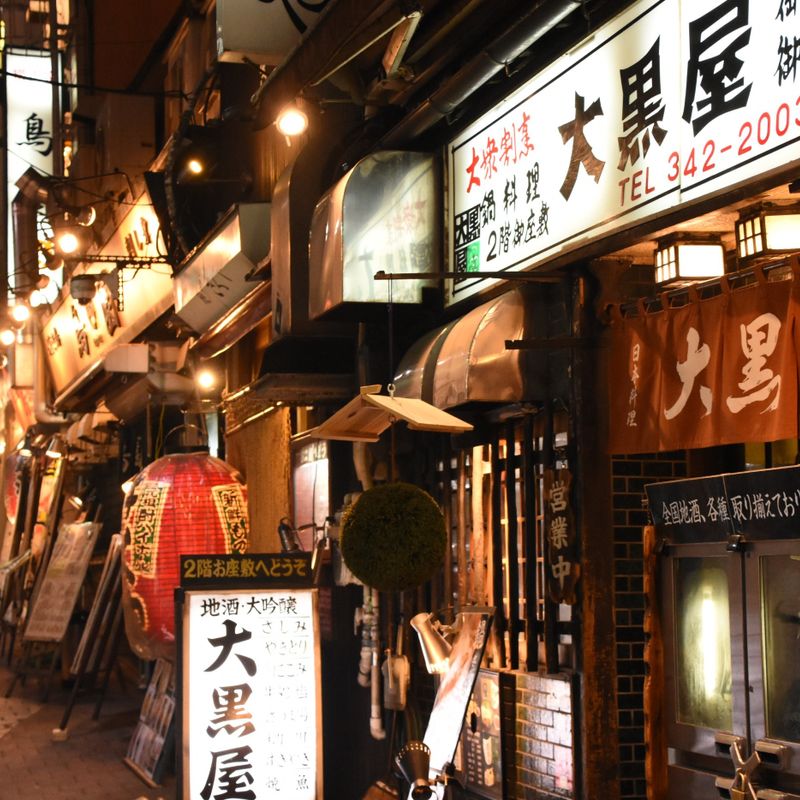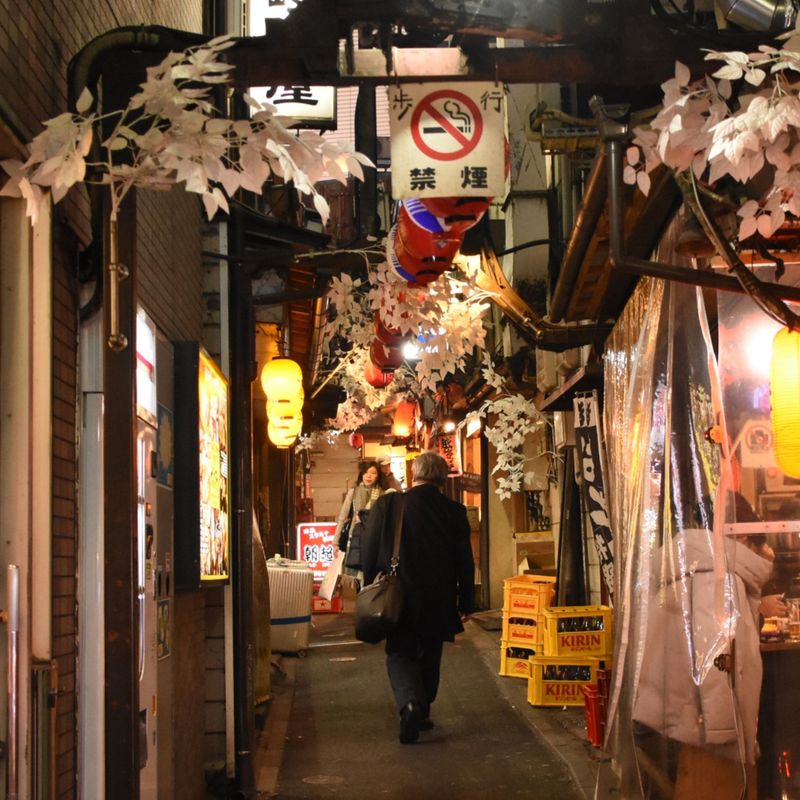 At the heart of Shinjuku Station's West Exit area lies the the storied and atmospheric Omoide Yokocho (Memory Lane).
Tucked into a tight space between looming and lit-up chain stores and the outer reaches of the Kabukicho red-light district, Omoide Yokocho is straight out of a scene from sci-fi classic Blade Runner. Here steam and smoke billows out of vents coating background neons in an old-world haze. The central "alley" is a covered one, and is impossibly narrow. On either side of the alley pint-sized operations serve up the grub to a mix of grizzled locals, suited office workers, and experience-chasing tourists. It's quite the atmosphere and whether you intend to eat or not, a walk around Omoide Yokocho is a lot of fun, especially when added to a well-rounded Shinjuku itinerary.
During the war years the area that is now Omoide Yokocho used to be a black market and was referred to as "Lucky Street." Under tighter government restrictions during the post-war years, the shops here, looking for other ways to make a profit, began selling the parts of cows and pigs that might normally have been thrown out: intestine, stomach lining and other entrails. These shops, motsu-yaki, made up the bulk of businesses in the area.
While the motsu-yaki shops still do a stiff trade today, Omoide Yokocho encompasses a variety of foods and services across some 80 stores, from yakitori to ramen noodles, bars and diners to coffee shops and fast food, but the central theme of the Tokyo "food alley" remains in place -- cheap, hearty, no-frills grub served up in a salt-of-the-earth atmosphere. You can probably know this when when the Omoide Yokocho homepage has listed those places where visitors can purchase cigarettes and is sometimes referred to as "Piss Alley."
Omoide Yokocho sees its fair share of overseas visitors, and proximity to the Shinjuku Station will likely see this set to continue. Many businesses here make appeals to these potential diners with English-language menus and signage along with overseas staff.
Ebisu Yokocho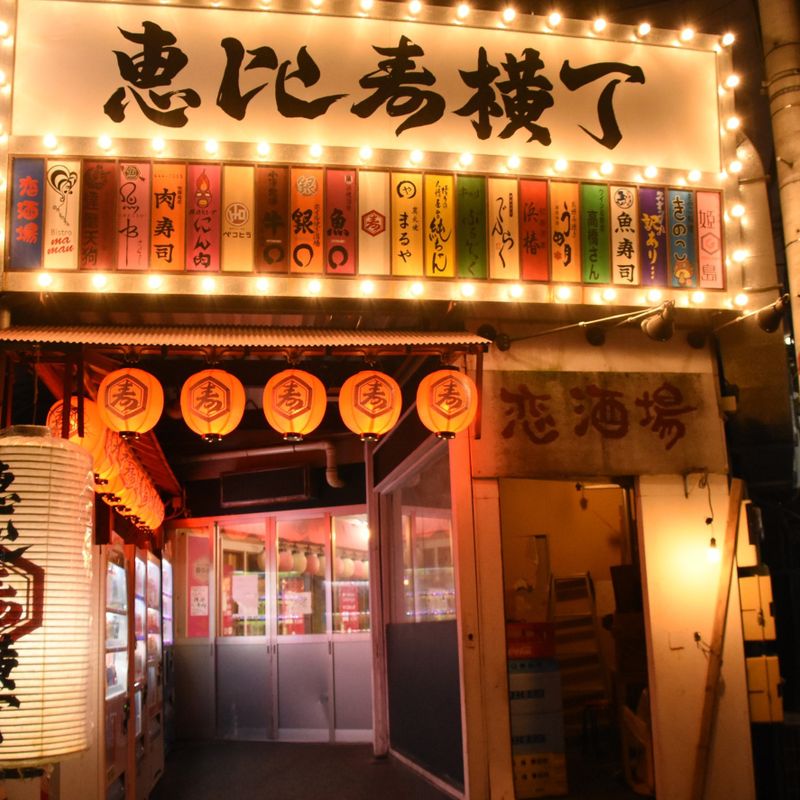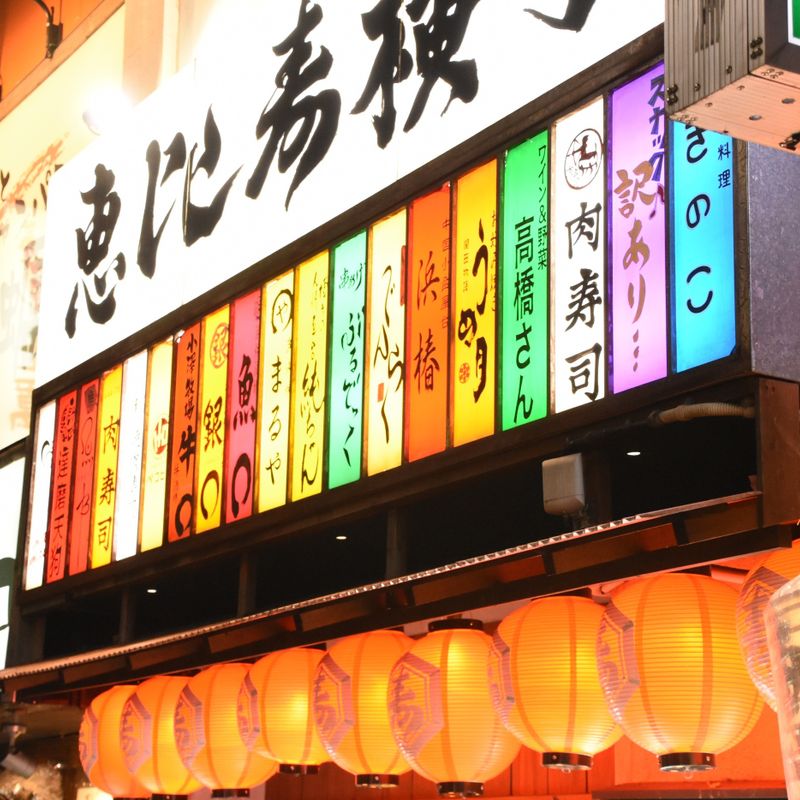 Upmarket, painfully appearance conscious Ebisu seems an unlikely location for the robust pleasures of a Tokyo "food alley," especially when we consider that Ebisu Yokocho is a fairly new venture having been opened as recently as 2008.
In place of any black market, post-war austerity history, Ebisu Yokocho was born out of a project to redevelop a 1970s apartment complex. Instead of a trendy bar or fashion boutique, as might be expected from Ebisu, the people behind this yokocho reveal a more social conscious -- here is a food alley set against a background of a declining population leaving independent business owners short of successors, and a saturation on the city of massive chain stores, restaurants, and even izakaya.
Ebisu Yokocho is about unique redevelopment and appeals to the more discerning of Ebisu diners.
Despite being barely 10 years old, Ebisu Yokocho does a great job of giving off the suitably weathered vibe of having ground through post-war hardships. Certainly, from the outside, the alley looks the part with a frontage of lanterns, lit-up signs, simple interior maps and flimsy doors that all belay its limited years. In fact, so successful is Ebisu Yokocho at giving off the old and local vibes it might suffer from presenting potential overseas visitors with hurdle to entry.
It would be a shame to let any inhibitions get the better of you. Ebisu Yokocho is a real treat. Being a sheltered alley, sealed off by doors at its three entry points, the atmosphere is more warm and cozy than it is roudy and robust (although the Ebisu clientele probably has something to do with this).
Inside, 20 eateries fit comfortably into an alley space that runs from busy Oodori (Route 305), east of JR Ebisu Station, through to the quiet backstreet the other side of the old apartment building. A small, sub-alley, links parallel to the main alley.
The shops of Ebisu Yokocho are largely open-plan rather than being sealed off individual units as is the case in, say, Omoide Yokocho. This is perhaps due to the whole alley being sheltered but, whatever the planned reason, this openness lends itself communal flavor to proceedings. It's to be celebrated for this.
On the Ebisu Yokocho menu -- a welcoming variety of yakiniku, grilled meat skewers, the food-alley staple of horumon (intestines, stomach lining et al), oden, sashimi, sushi, and more.
Most businesses here open around 17:00 and push on through to the early hours of around 4:00.
Yurakucho / Shimbashi Gado-Shita
Perhaps the most extensive of Tokyo "food alleys" can be found under and around the elevated train tracks between Yurakucho and Shimbashi.
Rather than a single alley, Yurakucho gado-shita (as its collectively known) is an area of robust al fresco dining and food alleys that somewhat merge with more conventional / upmarket joints to create a communal and friendly dining atmosphere arguably unparalleled anywhere in Tokyo. In short, this Tokyo dining experience is a must, even if all you do is wander around and people watch.
Expect plenty of yakitori and standing bar operations filling what space there is available between larger Korean BBQ joints, yakiniku, Chinese food, and izakaya. The warmer months are especially magical around the gado-shita as cheap stools and makeshift tables made from beer crates and any spare flat surface are set out onto the traffic-free streets for punters to enjoy dining out under the city lights.
The Yurakucho / Shimbashi gado-shita are hustle and bustle any evening of the week. Come here on a Friday night though, and it may take some perseverance on your part to find any spare seats. Those alleys that are directly under the train tracks are a really tight squeeze and the smokey, steamy, greasy atmosphere maybe a little claustrophobic for some. Other will absolutely love it.
If you can't find any space to sit but are after a quick bevvy, head north towards Yurakucho Station. East of the train tracks you'll find a set of drinks vending machines across the road from the Yurakucho Denki Building. The machines here sell beers and sake and attract a friendly set of office workers sit streetside to chew the fat and relax after the stresses of a busy day. It's surely one of the most honest and pleasant drinking experiences in Tokyo.
What also makes the Yurakucho / Shimbashi gado-shita experience stand out is just how far removed it is from the Ginza experience only a stone's throw away.
Shibuya Nonbei Yokocho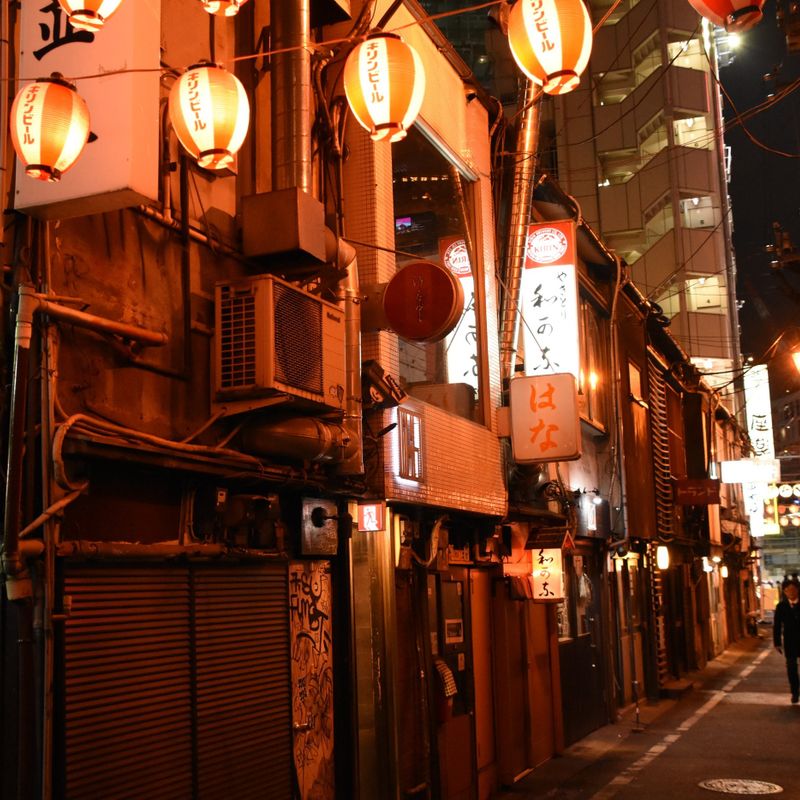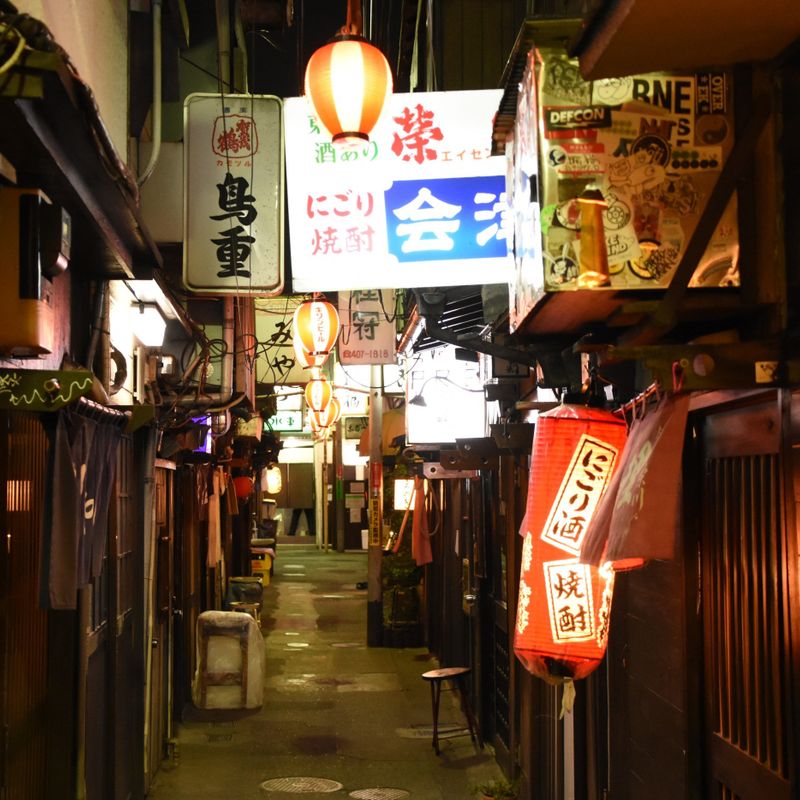 Despite its proximity to THAT crossing Shibuya's Nombei Yokocho would be hard pressed to be less, well, Shibuya. Absent are any Jpop stylings, loud colors, and anything that could be considered cute. In their place is a collection of tiny bars and eateries, immediately east of the JR train tracks north of Shibuya Station.
The businesses of Nonbei Yokocho sit in two rows separated by the tiniest of "back alleys." And these place are tiny, seating only around five people. There are maybe around 20 shops here.
By all accounts, it should be astonishing that Nonbei Yokocho hasn't been knocked down in favor of some fast fashion outlet. Perhaps it's because 99% of people who come to Shibuya forget that it's here. Understandable really -- Nonbei Yokocho is emphatically not Shibuya. But it is here, hidden in plain sight, if you will.
It may also be the air of inaccessibility that keeps peoples "hands off." The businesses here, while far from being exclusive, give off an air of being locals only, or at least the kind of places that will not tolerate any pretence, of which there is a lot in Shibuya. With no intention to enter, even just waking amongst the bars can feel like trespassing.
No, Nonbei Yokocho isn't going to be the easiest of drinking / dining experience for the average visitor. However, with a bit of confidence and a healthy amount of respect you could have yourself the kind of "Tokyo" experience that you'll be waxing lyrical over for years to come.
Hoppy Dori, Asakusa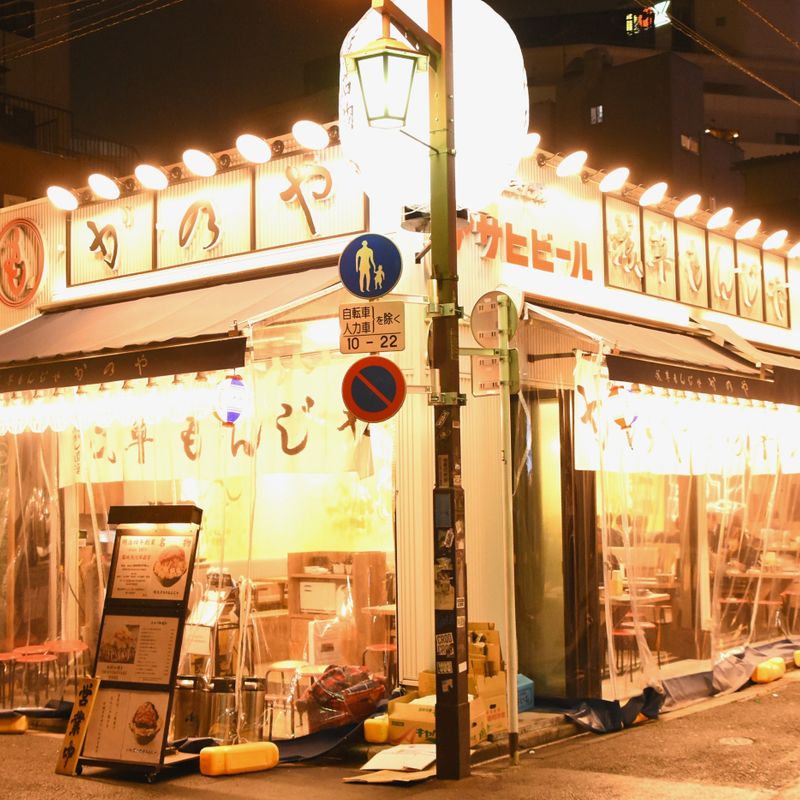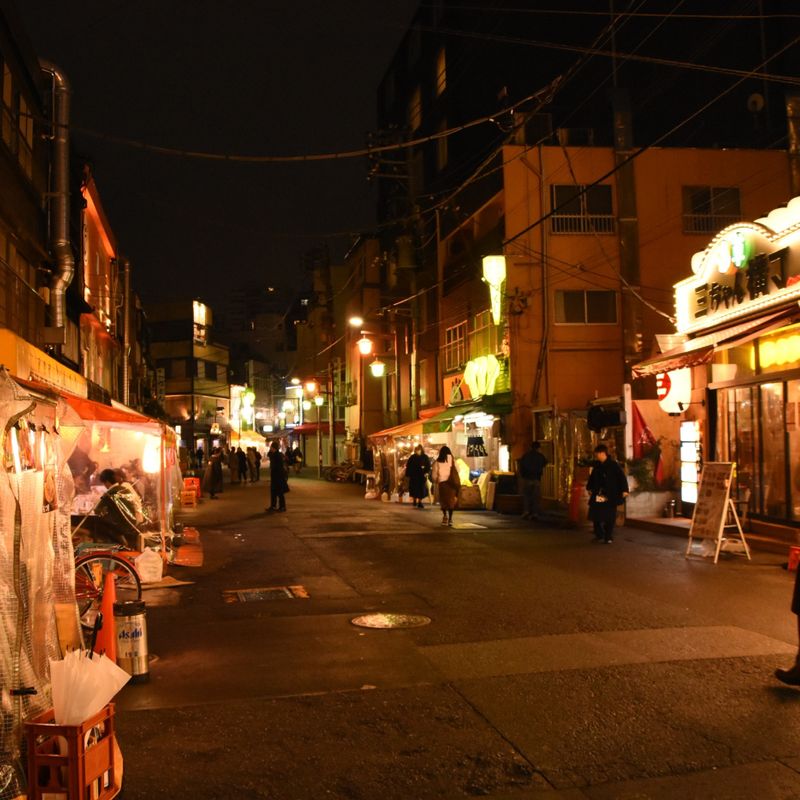 Is Hoppy Dori in Asakusa actually open for business? A pertinent question that some listing have this "food alley" down as being closed for business, permanently.
Well, at the time of our recent visit this street of open-fronted izakaya just west of the Asakusa Sensoji temple complex was doing a bit of trade. Emphasis on "bit." There were gaps between izakaya and any open frontage or outdoor seating was wrapped up against the cold in translucent tarpaulin. In the cold winter evening, with the businesses that serve Sensoji visitors closed for the day, Hoppy Dori was far from vibrant.
Summers past have painted a different scene for Hoppy Dori. During the warm months, especially on weekends, Hoopy Dori (named after the light, beer-flavored drink) has taken on an almost festival vibe with plenty of street drinking, carefree socializing and a healthy mix of locals and visitors of all stripes.
Not an "alley" as such (because the street is too wide to qualify, by our judgement) Hoppy Dori has an enviable location surrounded by the old-time, retro stylings that are part of the Asakusa / Sensoji experience. Plus, most of the people that come to this part of Tokyo are only holiday, and by default, (hopefully) happy and relaxed.
Check it out should you already be in the area.
This post is supported by Lucky WiFi, one of City-Cost's Supporters helping City-Cost bloggers to enjoy life in Japan and engage in new experiences.
---