May 1, 2018
Japan's Isumi Line "Moomin trains" journey through Chiba charms
Explore a rarely seen side of Japan with journeys on the Isumi Line (いすみ鉄道 / Isumi Tetsudo) -- Japan's "Moomin Train" -- as it ambles its way through the rice fields, forests and country-life charms of Chiba Prefecture, east of Tokyo.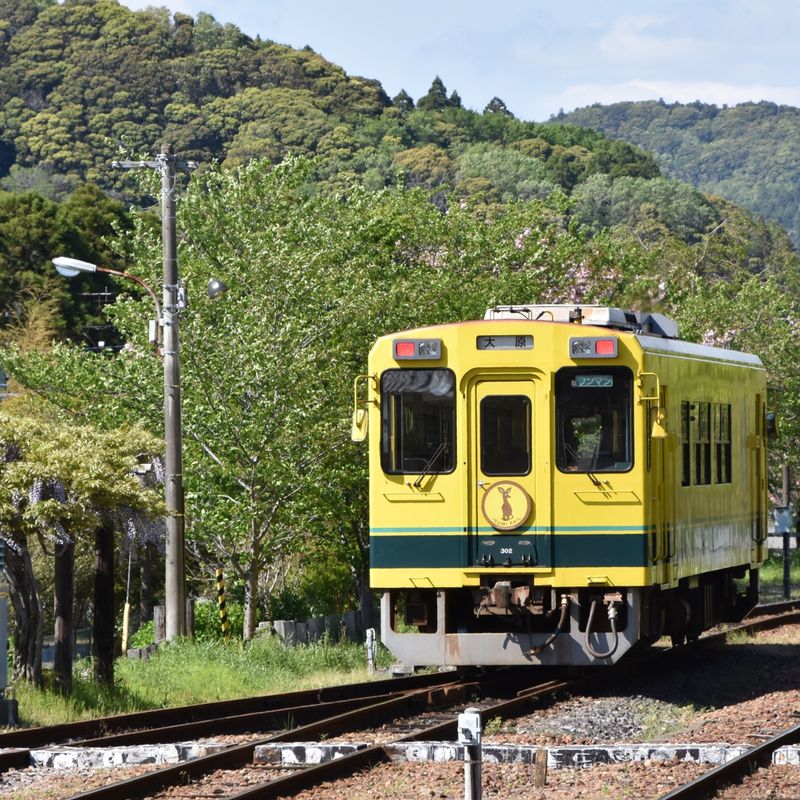 They don't make them like this anymore, can sometimes be a tired old refrain, but in the case of the Isumi Testudo, or the Isumi Railway Line in Chiba Prefecture, it's as true as much as it's a shame.
The Isumi Line, that fair ambles its way through the backyards, rice paddies, forests and fields of Chiba's rural Boso Peninsula, southeast of Tokyo, is an absolute charm. Named after the town of its origin, the Isumi Line's matchbox carriages ease out of their Ohara Station departure point to languidly journey through 26.8 km and 13 stations before terminating at Kazusanakano -- station No. 14 and the end of the line.
And what stations. Some of the these humble structures date back to 1912. Of 14 stations, only two are actually staffed, and most appear as little more than dilapidated bus shelters, poking out from the Boso's hedgerows and woods, pot marked with potted plants, flowers and bougainvillea. Coming from Tokyo as we did, on a sleek and speedy bit of railway engineering, the Isumi Line is almost hard to contemplate such are its glaring charms.
Charm and the slow life isn't always enough though. The Isumi Line is a third sector operation, supported by communities and non-profits, rescued from the jaws of not-enough-profit defeat in 2006.
Part of the rescue plan for the Isumi Line has been a re-branding. Japan loves its characters and cute, so it is then that Isumi Line trains have loosely been operating under the unofficial moniker, the "Moomin train" since Oct. 2009, inspired by the natural surrounds that some say remind of the Moomin Valley.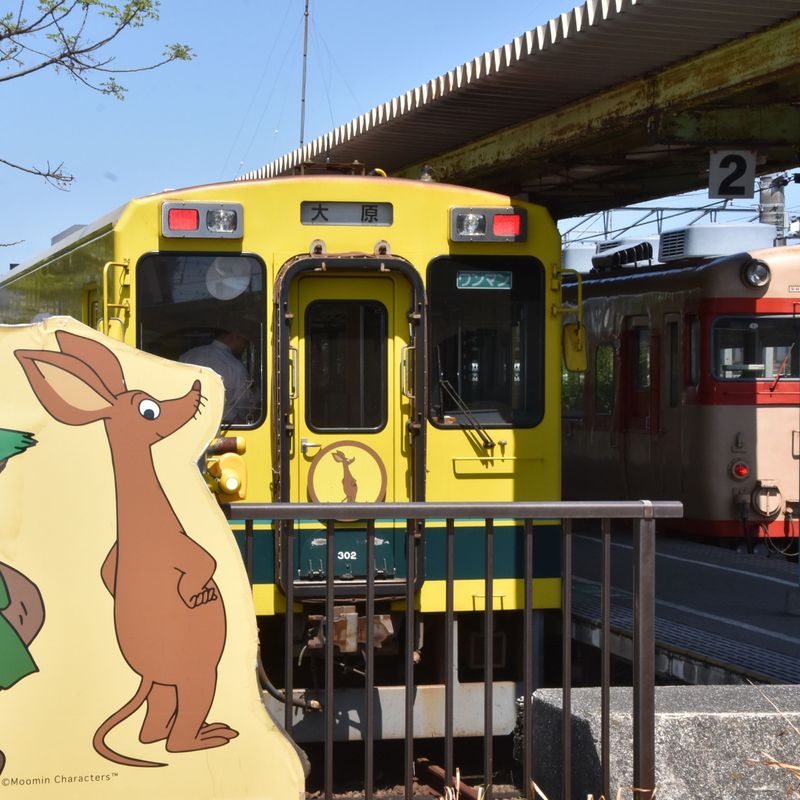 (Isumi Line "Moomin Train" preparing for departure, Ohara station, Chiba)
While comparisons with Tove Jansson's imaginary world may be subjective, it's hard not to be won over by the simple rural beauty through which the line runs. Early spring is especially popular as tracks become lined with cherry blossoms followed by bright yellow rape blossoms.
Blooming flowers or not, it's along this humle line that travelers can see a side of Japan that, yes, is part tourist novelty, but one that is mostly about taking in the rhythms of life in the rural country where the screaming neons and sexed-up, pop-culture iconography of urban Japan seem far away and quite absurd.
Ohara is the logical starting point for journeys on the Isumi Line. A few minutes walk from the coast, the station here is the busiest on the line (along with Otaki about half way up). On a weekday afternoon though, that isn't saying much. For our late morning arrival Ohara had barely gotten out of bed.
Still, in the station itself is where you can buy your tickets and passes for the Isumi Line, from a vending machine inside the station building. Here you can also purchase the requisite Moomin / Isumi Line trinkets, snacks and bentos (box lunches), and copies of the train timetable (in Japanese).
If you've a bit of time to spare, head straight out of the station building onto the street perpendicular and a few meters on your left you'll find a small tourist information center focused on dispensing information relating to journeys along the line. While we didn't see any English-language information, staff did try a few words on us, and the maps you can get here might come in handy.
A 20-min walk east of Ohara station, on Route 465, brings you to Ohara's small fishing port. If you're here early enough you might see a little hustle and bustle from returning fishing boats. Otherwise it's quite a languid affair but it's nice to see the boats getting prepped for their next outing.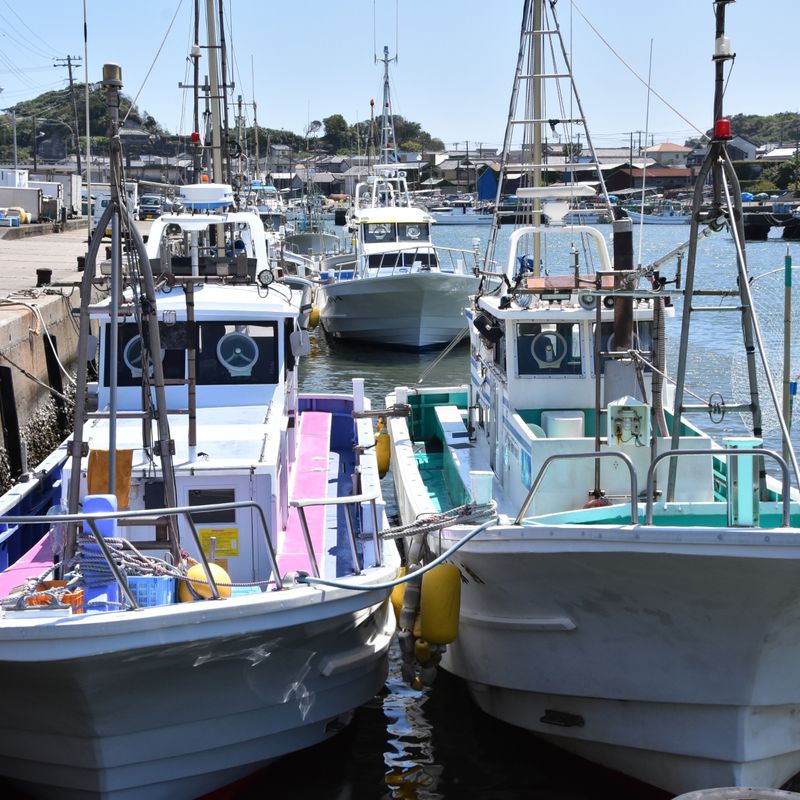 (Fishing boats take a rest in the small port near Ohara station, Chiba)
Heading just north of the port, over Sunrise Bridge, brings you to Ohara's beach, a long, windswept stretch of greying sand marked by strategically placed banks of tetrapods. Some of the surfing around here is good, so if you're lucky you might be able to set up on the dunes by the car park and watch local boardriders tackle the fun rivermouth breaks.
Make sure to be back at the station in time for your train, though, as Isumi Line departures are few and far between.
Perhaps the first stop of significant interest on the Isumi Line is four stations from Ohara at Kuniyoshi station, established in 1930, rebuilt in 1992. Here, in the station's whitewash, flower-pot furnished building travelers can find the Valley Winds store, a Moomin-themed local store of sorts, located within the station building (the first Moomin shop to be opened in a train station in Japan), and, perhaps, the relaxed station cat which seems to have established themselves a rather comfy spot on a bench in the station waiting room (such as it is).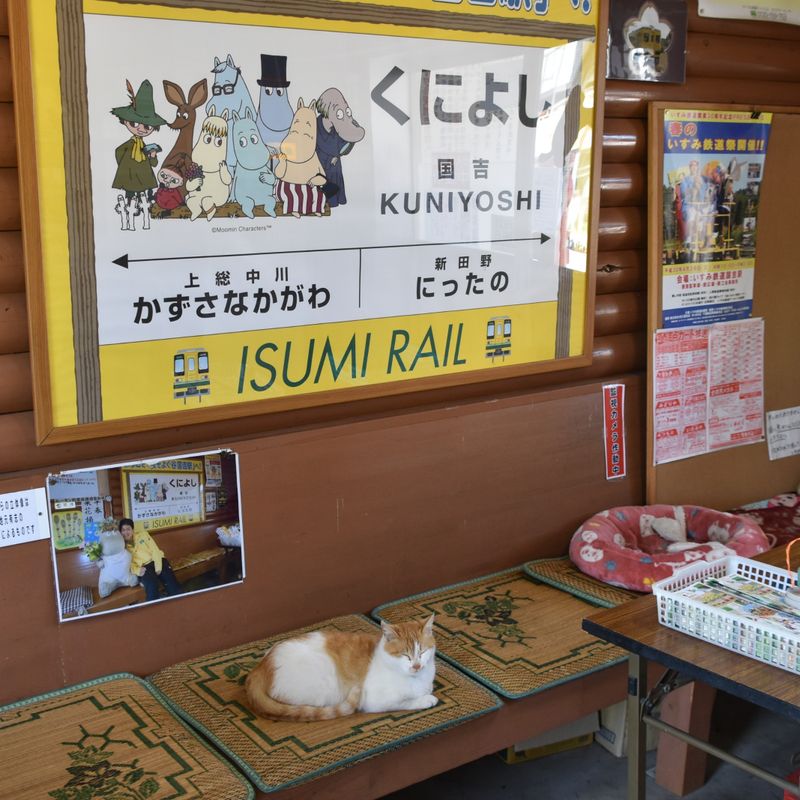 (Station cat, Kuniyoshi station on the Isumi Line, Chiba)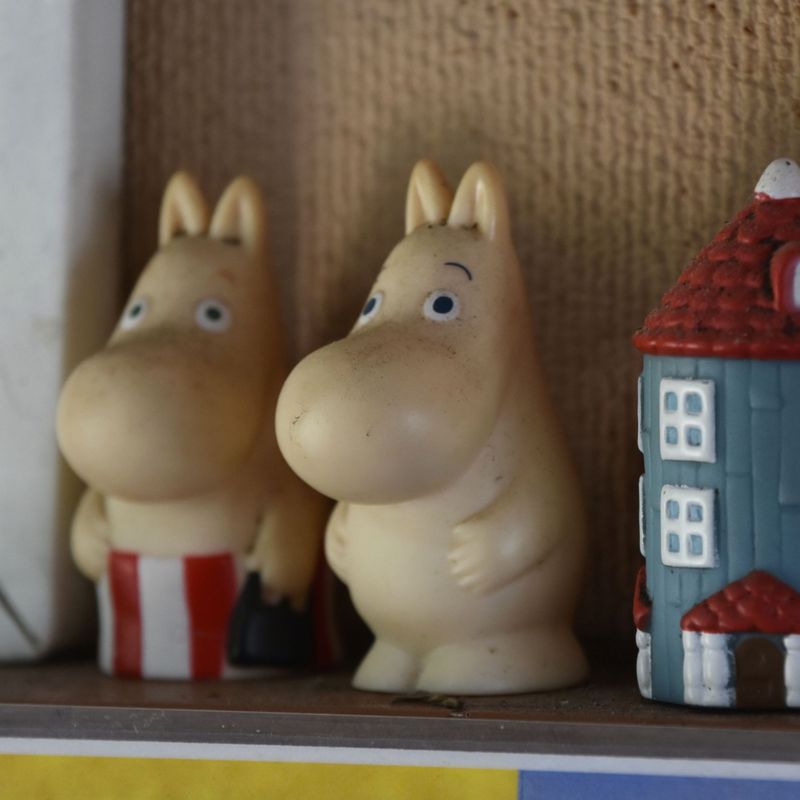 (Moomin ornaments, Kuniyoshi station, Chiba)
Valley Winds is a pint-sized operation selling Moomin and Isumi Line-themed souvenirs. More charming is the Valley Winds park set in an open glade, littered by warn, wooden Moomin figures, looking out to the Boso's forested hills in the near distance. If you've just arrived from the city, the sound here of nothing but the breeze combining with the leaves is quite hypnotic.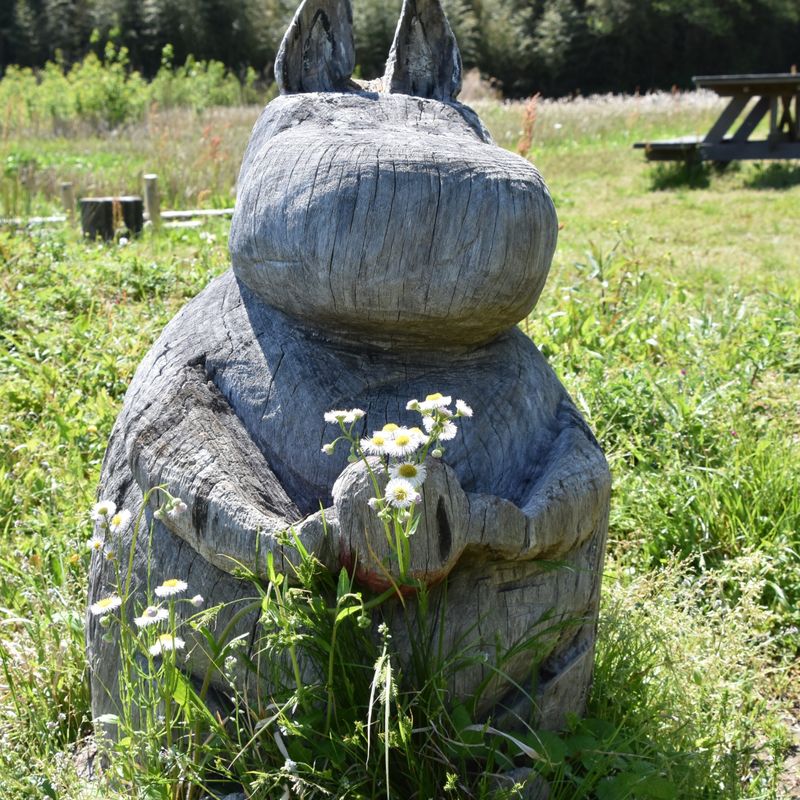 (Moomin romance in a field near to Kuniyoshi station, Chiba)
Across the other side of the tracks and through the station building, Route 465 marks the main thoroughfare in these parts. Head east for about 100 m and you'll come to the lane that leads to Kuniyoshi Temple.
"It's quiet in these parts now, but come Golden Week, it will be much busier here with people going to visit the flowers and koinobori (carp streamers) at Mangi Castle," explains the grounds keeper of the temple.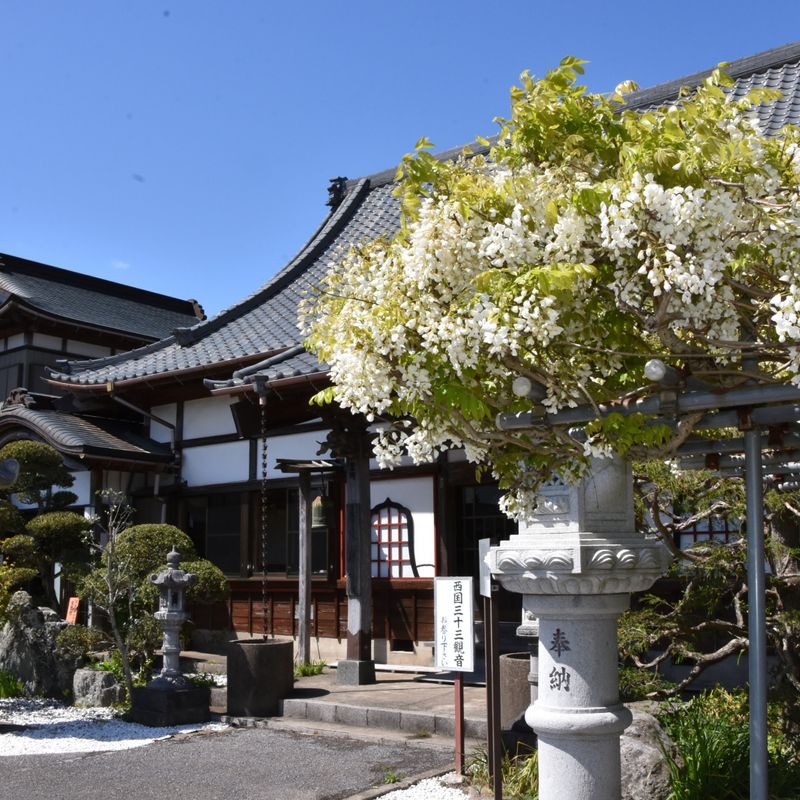 (Temple, Kuniyoshi, Chiba)
For now though, we're the only ones in the temple grounds which make for a pleasant poke about among structures and flowers (flowers are everywhere in Chiba at this time of year) as you wait for the next train to arrive at Kuniyoshi station.
From Kuniyoshi the Izumi Line's carriages loosely follow the same ambling pace of the Isumi River as it loops north to south carrying passengers to the town of Otaka.
Despite the rather incongruous name (Where the "dental" bit comes from, we don't know) Dental Support Otaki station delivers travelers into what is surely the centerpiece of the Isumi Line's charms -- a lovely old castle town holding a quiet repose between river and forest covered hills.
The castle is still here, a beautiful study in brilliant white sitting with all the pomp and splendor a fortress should, atop a stiff hill west of town. It's a 20-min walk to the castle from Otaki station on a well-paved road that follows sections of the river. Be sure to stop along the way for some precipitous views over the waters.
These days 17th century Otaki Castle is actually a museum with the structure that travelers see today a restoration job. Still, it looks stunning either way (especially from the little view point in the southeast corner of the castle grounds). It costs 200 yen to enter and explore the four floors of displays that include katana (swords) and displays of armour. Explanations are in Japanese, but at this kind of price, one shouldn't be too disappointed.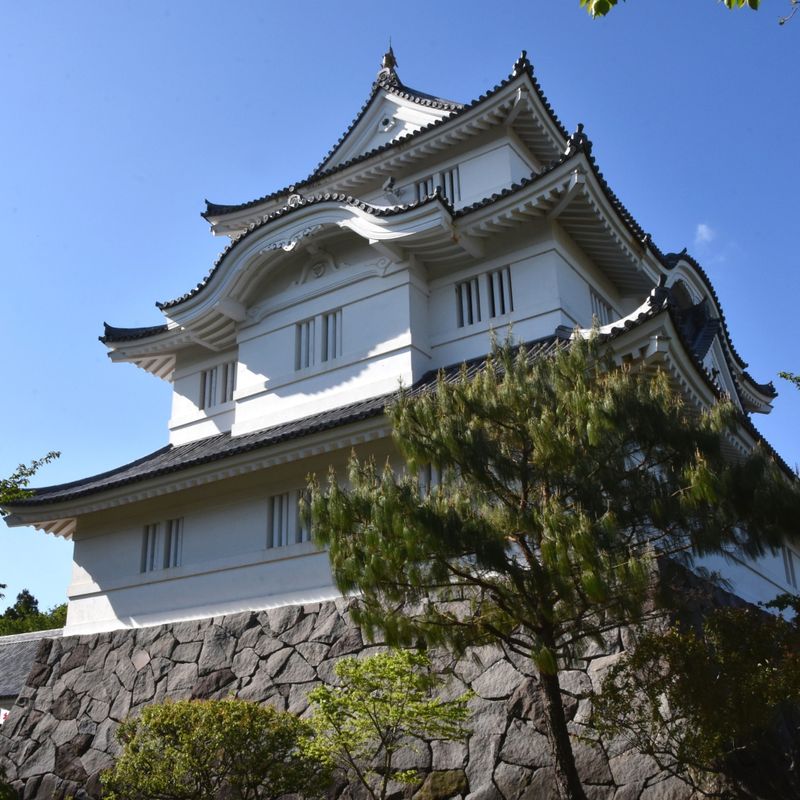 (Otaki Castle and museum, Otaki, Chiba)
At the time of visiting, a petition had been set up in the lobby garnering signatures from those who would like the castle and its prominent historical resident, Honda Tadakatsu, made the subject of an NHK taiga (period) drama, something which fellow visitors in the castle grounds told us was "unlikely." Probably for the best though, we don't want an army of TV addicts storming these walls.
Across the road from Otaki Station a well-stocked visitors center has maps to guide travelers around the town's quiet streets and the beautifully restored buildings and temples that line them. There's little available in English but this shouldn't deter. Freely wandering around town is one of the joys of a place like this, a place which is, quite frankly, hard to believe exists -- a town in Japan where care has been taken to maintain old charms and guard against the typical urban planning anathema that so blights the modern Japanese urban landscape.
Much of the town's old buildings spread east of the station, ending at the banks of the river, with walking courses detailed on town maps that might take an hour or so at a leisurely pace.
On a weekday Otaki is largely still save for those visitors who are riding the Isumi rails. But that's fine. It's a rare experience to have such a delightful place to oneself.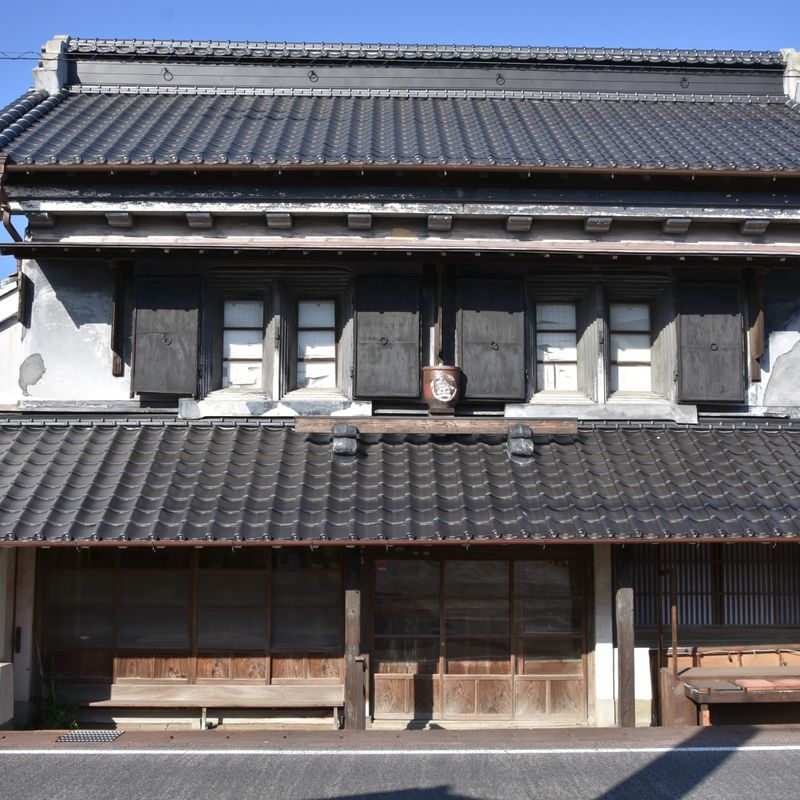 (Traditional buildings line the streets of Otaki, Chiba)
In particular, take a stroll along the lane that runs north to south between Otaki's main thoroughfares of Joukamachi Dori (城下町通り, east) and Nankaku Dori (南郭通り, west), and be sure to take a breather in one of the town's tiny parks surrounded by greenery, flowers, and old-world charm.
From Otaki, Isumi Line trains head south before bending back northwest towards the end of the line, Kazusanakano. After Otaki, it feels like coming to an end, too. Along these sections of the tracks, space is at its tightest as carriages sneak in and out of patches of forest and train doors open to stations (such as they are) absent of both staff and passengers.
Travelers might be forgiven for thinking that Kazusanakano station, being the end of one line and the beginning / end of another (the Kominto Line), will offer something of a scene of fanfare. A celebration of journey's end.
In this part of the world though, it's the absence of brag and boast which is the thing to be celebrated. Kazusanakano is like other stations on the Isumi Line -- unmanned, quiet, and impossibly charming.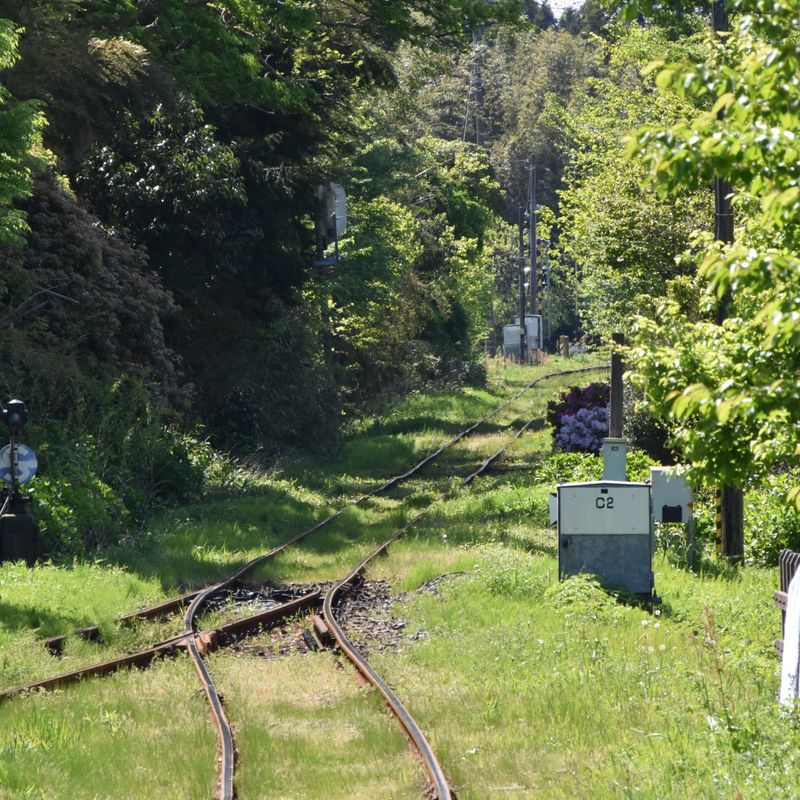 Notes for traveling on the Isumi Tetsudo -- The Moomin Train
| | |
| --- | --- |
| Length | 26.8 km |
| Time from Ohara to Kazusanakano | ~ 50 mins |
| Fare from Ohara to Kazusanakano | 720 yen (one way) |
| No. of departures from Ohara to Kazusanakano | 12 (weekdays), 10 (weekends / hols) |
*Note: There are more departures from Ohara but some will require a wait and a change at Otaki.
The first thing to note about travel along the Isumi Line is that it will require some planning. Very basically, there is only one departure per hour (from each station), meaning that travelers cannot just hop on and off with free abandon. Doing so will mean long waits and could significantly eat into tight schedules.
Without doubt, Otaki is where the bulk of the sightseeing lies so plan to be spending most of your time there (a good couple of hours at least).
Where to start?
A tricky one. We mentioned earlier that Ohara Station would be the logical departure point for Isumi Line journeys. Along with Dental Support Otaki, it's the largest of Isumi Line's stations. However, travelers will need to factor in getting to / from the region as well as any potential return journeys along the Isumi Line.
A potential and circular route would be to start from Tokyo Station taking a Limited Express Wakashio train direct to Ohara (70 mins / ~ 3,000 yen).
From Ohara explore the stations along the Isumi Line.
From Kazusanakano the similarly old skool and charming Kominato Line trains head to Goi Station (~ 80 mins / 1,410 yen).
From Goi Station it will take around 1 hour (and around 1,000 yen) to Tokyo Station using regular JR trains.
Perhaps the quickest and easiest way to get to / from the Isumi Line would be to make Ohara the departure point and end point for your Isumi Line explorations.
Isumi Line passes
The best form of ticketing to explore the stations along the Isumi Line would be to make use of the "one-day free pass." The pass allows for unlimited stops / journeys along the line in between the first and last trains of the day. Buy passes from vending machines or counters at Dental Support Otaki and / or Ohara stations, or on board the trains (you'll need the exact money for this). Cost: 1,000 yen (adult), 500 yen (child)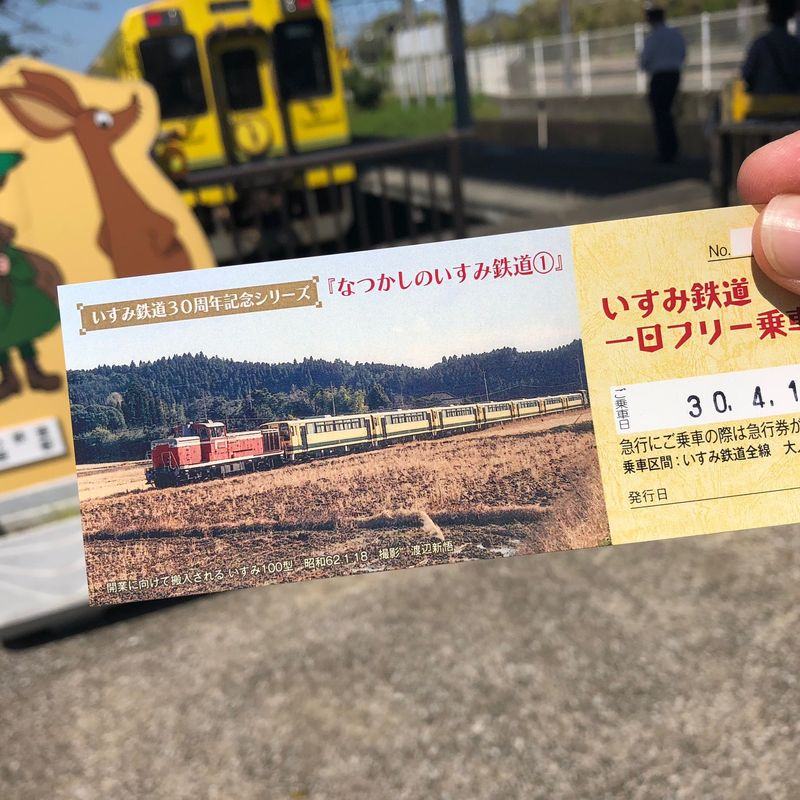 (Isumi Line one-day free pass)
With this pass, travelers just need to show it to train drivers when alighting the train.
How to ride Isumi Line trains
If using regular tickets to ride Isumi Line trains, the system for purchasing them is a bit like riding Japan's buses -- board the train, take a numbered ticket, pay (in exact change -- change machine available) when alighting. Ticket vending machines are available at some stations.
Note that IC cards (Suica, Pasmo et al) cannot be used on the Isumi Line.
In our experience, on board the trains, upcoming stations and fares were listed (English / Japanese) on digital displays at the front of the train.
After having explored a particular station area, make sure to note the platform required for boarding trains heading in the direction desired -- it would be a time disaster to miss trains due to being on the wrong side of the tracks.
This post is supported by Lucky WiFi, one of City-Cost's Supporters helping City-Cost bloggers to enjoy life in Japan and engage in new experiences.
---