Mar 12, 2019
Easter events
I know it is not very common to celebrate easter in Japan, but since more and more easter goods and sweets are in the stores, I thought there might also be some events. Does anybody know of some easter events, preferable in the Kanto area?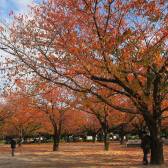 I´m a german girl living in the center of Tokyo, but my true love belongs to the countryside of Japan (especially Chiba and Hokkaido). I love traveling in Japan and explore hidden areas.
I want to help people with my articles to get in touch with the Japanese culture and all the beautiful places you can explore.

Besides traveling around, I love trains, handcraft and my little rabbits.
4 Answers
---
Disneyland and DisneySea usually have Easter events, like special Easter parades or searching for easter eggs in the park. USJ might be doing something as well. Besides that, I have not yet heard of any Easter events though. Might be because Easter season is Sakura season in Japan.

0

Looks like there is some kind of Easter event going on in Daikanyama, Tokyo at or near the fancy Tsutaya that they have there. Not sure on the details because it's all in Japanese but the images of the "Easter Choco Art" look quite cool. Here's the url for the event page https://cdeaster.com/

0

Sadly the only ones I know about are the Tokyo Disney events and other things held at the Tokyo American Club/military bases to celebrate. I feel like each year Easter seems to be growing here, certainly with items in stores, but there still don't seem to be many events.

0

For children or adults? I know of a few Easter events for children in Saitama, egg painting crafts and egg hunts - things like that. I will be adding those type of events to my personal blog (insaitama.com) over the coming weeks. A few of last years are still up on the calendar from last year. They are just small events generally. The Saitama Children's zoo used to have a bigger egg hunt event, but they dropped it about 5 years ago. :-( If I see any events for adults I will let you know. :-)

0