May 2, 2018
Stunning rice terraces and Ghibli fantasy await in Chiba's Boso Peninsula
The stunning Oyama Rice Terraces and the Ghibli fantasy of Turtle Cave await travelers in the heart of Chiba's Boso Peninsula, and reflect a landscape that shows how human ingenuity and community can combine with nature to wonderful effect. And it's all so close to Tokyo, but atmospherically a world away .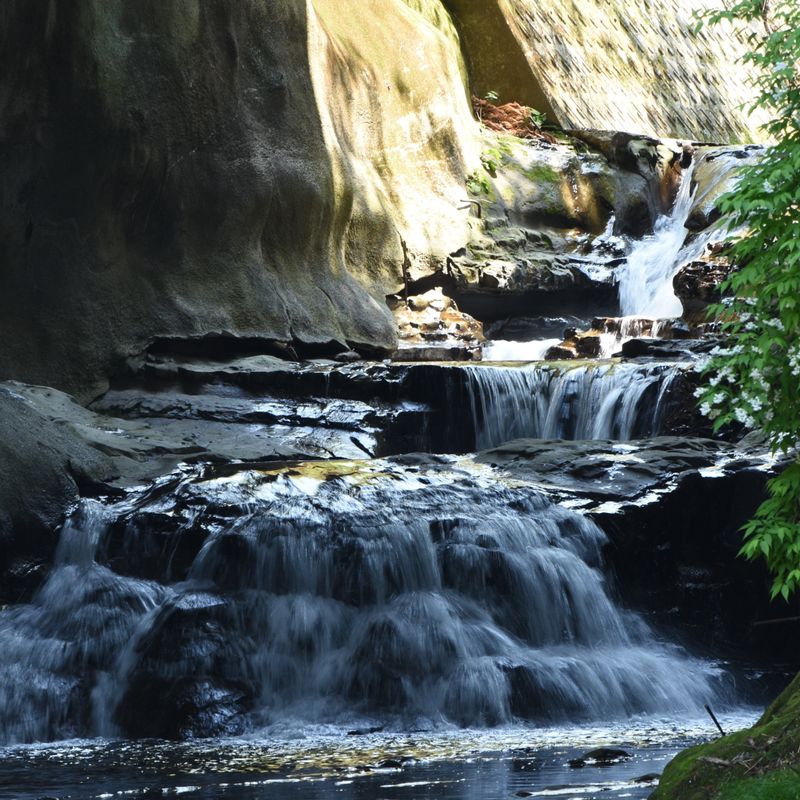 The first thing travelers will notice about the Boso Peninsula in Chiba Prefecture, east of Tokyo, is just how green the place is. Here, gentle mountains are covered in dense carpets of forest and cut through with rivers bound for the mighty Pacific. It's natural imagery that belays this region's reputation as a suburb of Tokyo and a place for travelers to pass through on their way to and from Narita International Airport.
But here it is and it has some stellar attractions to boot.
Turtle Cave (Kameiwa no Doukutsu / 亀岩の洞窟)
What's in a name? Well, quite a lot of consternation, as it turns out in the case of social media sensation Noumizo no taki (濃溝の滝), or should that be Kameiwa no Doukutsu (亀岩の洞窟)?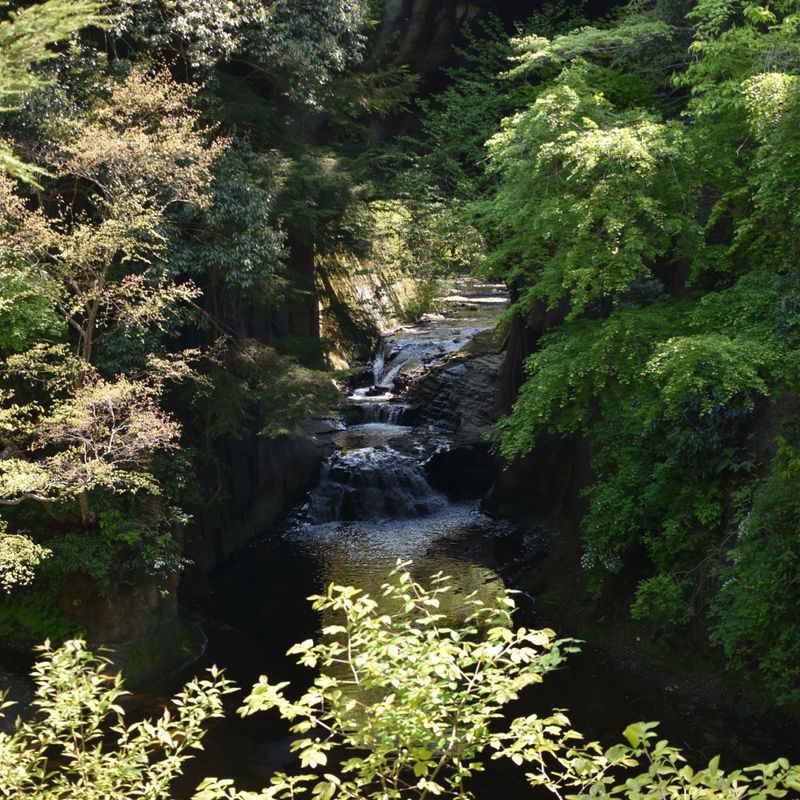 In the autumn of 2015 this unassuming, though quite beautiful corner of Kimitsu in rural Chiba came to understand the power of social media when an image of the cave / waterfall combo appeared on an Instagram post. Hazy beams of sleepy morning light hitting fresh falls of water seeping through a cave furnished with lush vegetation drew comparisons with the ethereal atmospheric stylings of a Studio Ghibli fantasy. And the Internet went all giddy at the knees, especially as the location is within spitting distance of Tokyo.
Cue appearances on Japan's "variety" TV programs, slots in a library's worth of clickbait, "you must see this before you die" Internet posts, and enough SNS shares and likes to make an Internet marketer weep, and Noumizo no taki / Kameiwa no Dokutsu was hosting visitor numbers in their thousands.
While early Internet postings rolled with the name Noumizo no taki, newspaper reports told of locals who wanted the spot known by its actual name of Kameiwa no Doukutsu (Turtle Cave), given in 2002 as a reference to the turtle-shaped rocks bearing the brunt of the falls.
Noumizo no taki then, appears to be the former name of the site, where once a farming hut kept watch over this area of agriculture. And like a Studio Ghibli fantasy, the cave is man-made, having been bored out in the early Edo period to enable farmers to draw water for the irrigation of their rice fields.
"Most people come through this way for the waterfalls," the lady serving us ice cream says at the nearby Fureai Park Kimitsu Rest Area, just over a kilometer east of Kameiwa no Dokutsu.
She might be right, but perhaps things have calmed down a little. Even in the glorious weather of a mid-morning in spring there's only one tour bus to be seen in the site car park. Ironically, passengers display the kind of vintage that would probably see them give a blank look at the mention of Instagram. Perhaps the Internet has moved on, leaving the elderly to play catch-up. Still, it is only a weekday.
Visits to Kameiwa no Doukutsu are likely to be brief. We circumnavigated the site in around 20 mins (and about half of that time was spent trying to get some "Ghibli" into our photos).
A gentle path from the car park leads through an area of light forrest as it slopes towards the falls, stopping short of the main spot to offer lofty views over the cave. Here, in true Japanese style, management has "managed" to convince domestic, loved-up tourists to display on a board their selfie images of combined limbs straining to make the shape of a heart.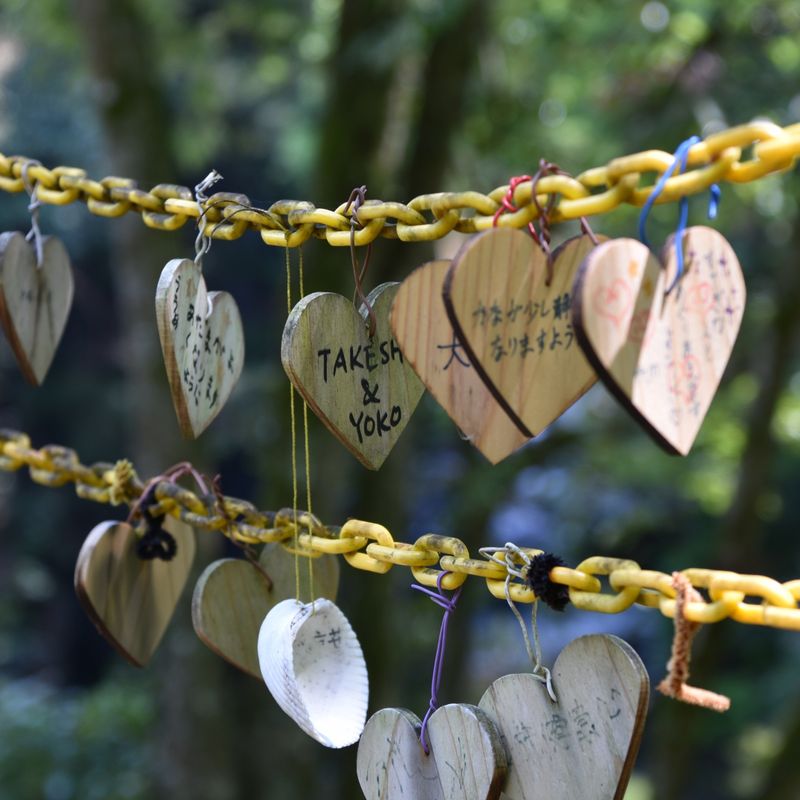 The giddy posturing isn't completely random though, time your visit to Kameiwa no Doukutsu right and the beams of light pouring through the cave and then reflecting in the post-fall waters form the image of heart. You'll need to be here early morning (around 7:30) on a sunny day in March or September to see this.
A "bell of good fortune" marks the beginning of the short trail down to the cave from where you can get your images worthy of the term "instabae."
There's little down here other than the cave and falls but it is, without doubt, a charming spot, even if it falls short of the "you simply must see this" beauty that the Internet would like us to believe. It's a lush scene though, the cave surrounded by resplendent green (although the sun will have had something to do with that), and waters that look fresh in that way that makes you think about taking a sip.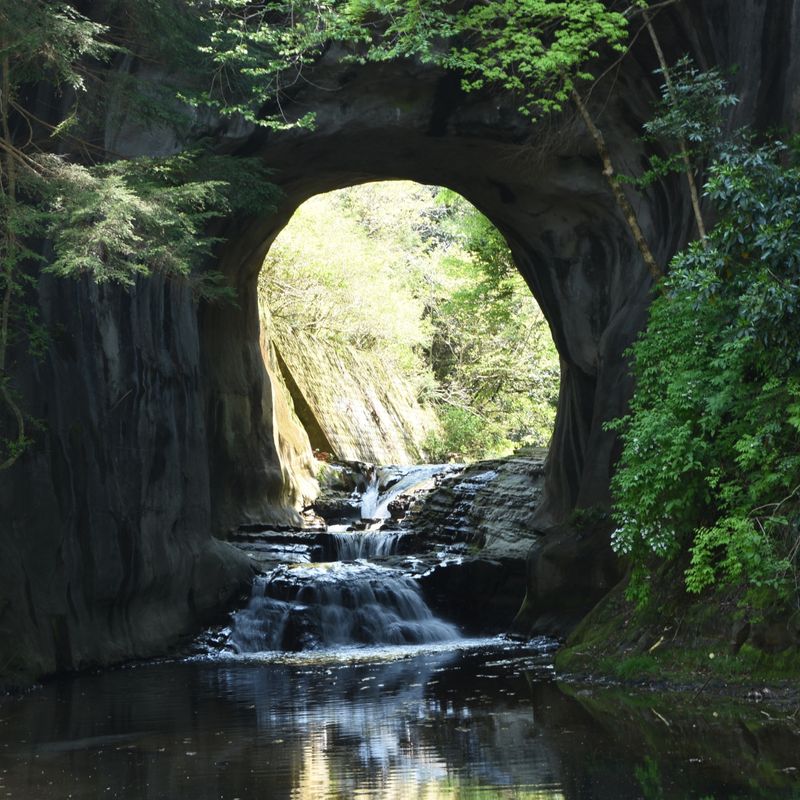 Photos are taken from the muddy river bank about 20 m away from the cave and it's this so-near-yet-so-far separation that helps to add a sense of tingling fantasy to the experience. If we could wade in and through the cave, you just know it would lead to disappointment. But we can't, and seen from this distance, unable to quite make out what's going on on the other side, we can just about satisfy our Ghibli desires.
A series of raised wooden walkways zigzag their way through a green ravene of sorts that leads away from the cave back to the car park.
20 minutes, job done!
There are a couple of places to eat around the car park for Kameiwa no Doukutsu but there are perhaps better facilities at the Fureai Park Kimitsu Rest Area to the north on Route 24.
Oyama Rice Terraces (Oyama Senmaida / 大山千枚田)
If it was a surprise to find something so "insta-bae" worthy as Kameiwa no Doukutsu so close to the Japan capital, then where does that leave Chiba's Oyama Rice Terraces (Oyama Senmaida / 大山千枚田)?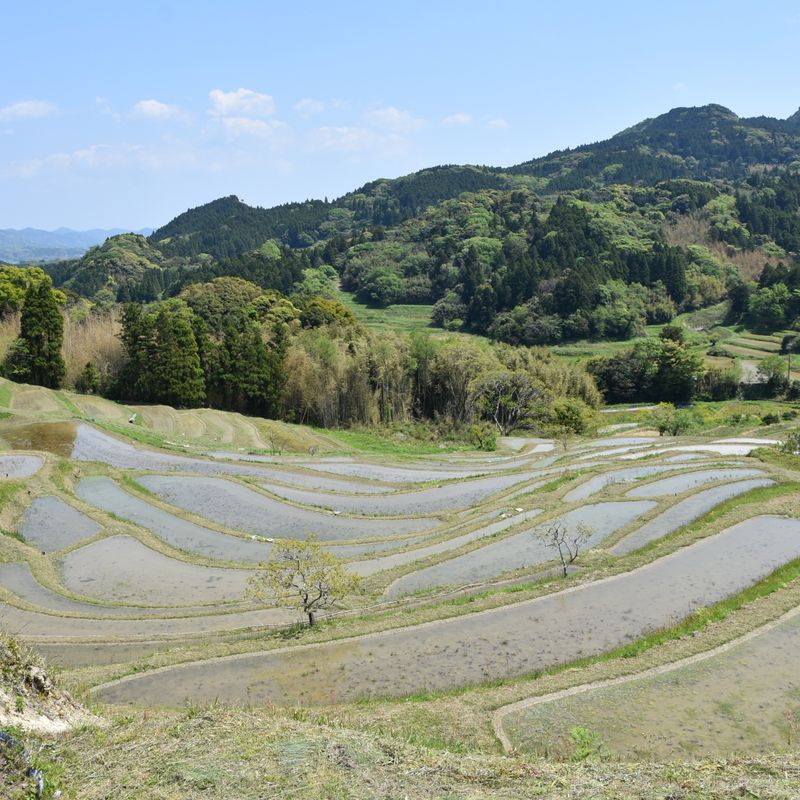 Spreading 600 m across the slopes of the Mineoka Mountains in Kamogawa, in the heart of the Boso, the Oyama Rice Terraces, consisting of some 374 paddies, are nothing short of astonishing, laying waste to the idea that Chiba is little more than a suburb to house Tokyo workers. That said, these terraces do boast of being the closest to the Japan capital, as well as being listed among the 100 senmaida of Japan by the Ministry of Agriculture, Forestry and Fisheries (1999) making them one the must see attractions in Chiba.
Where Kameiwa no Doukutsu displays shades of a Ghibli fantasy, the Oyama Rice Terraces and their surrounding hills are an emphatic Shangri La. Up here narrow lanes twist their way past quaint farm buildings, through flowering foliage, rounding corners to reveal views you thought only possible among the tea plantations of Sri Lanka or Malaysia.
As beautiful as it all is, maintaining such a place must be a back-breaking, Sisyphean task. It adds to the region's charms then when we learn that the Oyama Rice Terraces are maintained by the good-will and the outreach of the collective.
A combination of local government and NPO, the Oyama Senmaida Preservation Association (大山千枚田保存会), take to the upkeep of these terraces through an ownership program that allows those with a genuine interest to "own" a particular terrace for an annual term during which "owners" and local farmers come together to work the land, and take part in festivals and programs of agricultural / environmental learning (the Oyama Rice Terraces are the only such terraces in Japan to be irrigated by rainwater alone).
For the layman though, the views alone are worth the trip out here, which will really need to be handled by car. There are a couple of small parking areas off the lane that overlooks the terraces, one of which has toilet facilities and access to a lookout point. However, it's worth taking the time to explore a little and perhaps find your own secret lookout.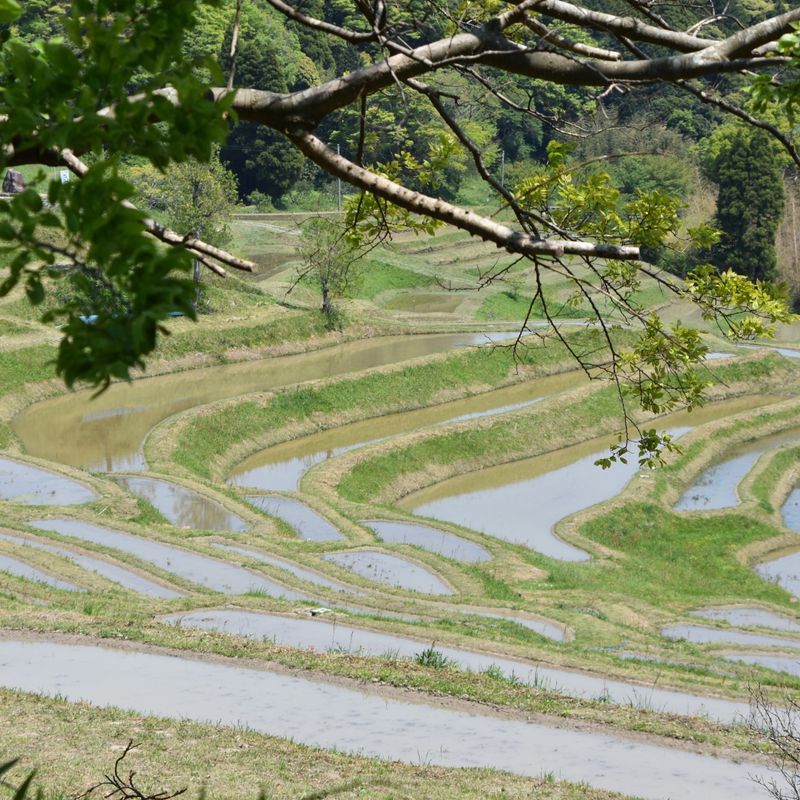 The Tanada Club building occupies a fantastic spot overlooking the terraces. There's a cafe here but days and hours of business are infrequent. Even when closed though (as it was during our visit) you can still take a perch up here to look out over the terraces.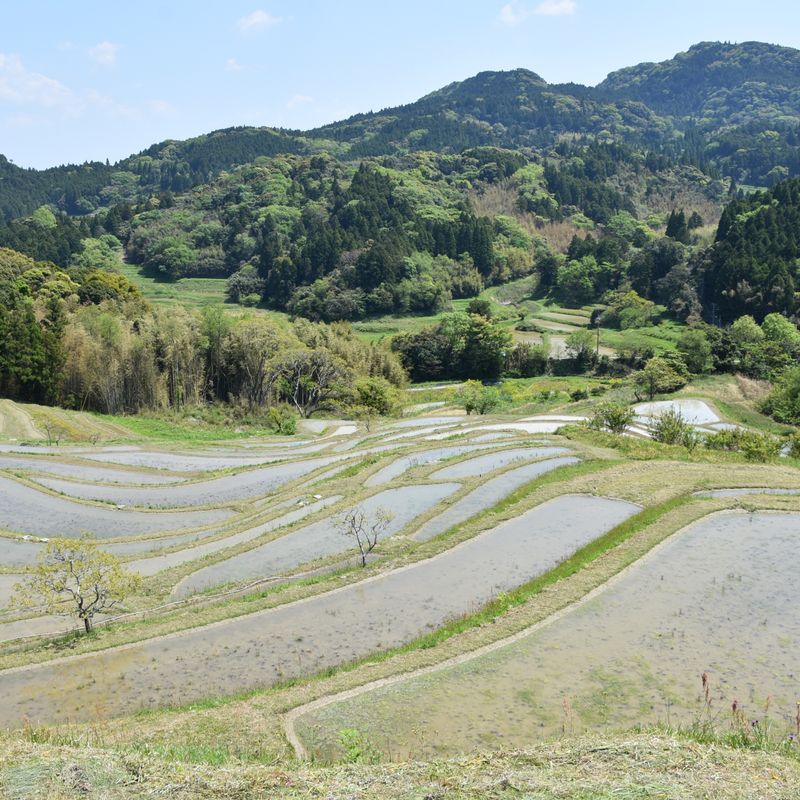 Kominka Cafe Gonbei (古民家カフェごんべい) is located off a quite lane just a few meters away from the terraces. While there are no views to be had here, the cafe looks to be a reliable place to grab a bite. Appropriately the cafe serves rice burgers (500 yen). Be sure to try the Tanpopo Coffee (タンポポコーヒー) which is, in fact, a rich tea made from dandelion.
Where Kameiwa no Doukutsu and the Oyama Rice Terraces share common ground is in the coming together of human ingenuity and brute nature for the creation of something quite beautiful and life-sustaining. In fact, the Oyama Rice Terraces are often coupled with the term "satoyama," a place where mountains meet flat, arable land bearing connotations of community in the cultivation and maintenance of the area.
This common ground is something that is reflected in a lot of the scenery in the heart of Chiba's Boso Peninsula. Our drive to these spots began near the sleepy Kazusanakano Station on Chiba's Isumi "Moomin Train" Line following Route 465 through a landscape of carefully cultivated greens and bodies of water, surrounded by trees, but created by dams -- first the Kameyama Dam (亀山ダム) and then the Katakura Dam (片倉ダム) on the approach to Kameiwa no Dokutsu. Besides, around, and on these waters people come to fish, kayak, picnic and even take soaks in onsen waters.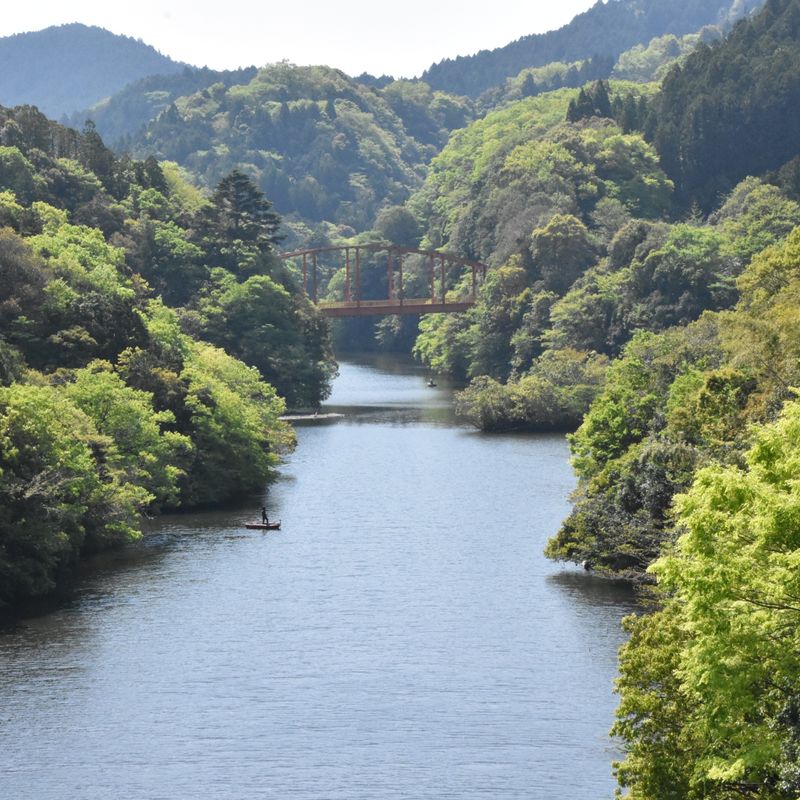 Notes on travel to Kameiwa no Doukutsu (亀岩の洞窟)
While a lot of the SNS fever appears to have died down since this cave / waterfall's 2015 boom, expect there to be crowds on weekends and holidays, especially during the warmer seasons.
As we mentioned earlier, it doesn't take a long time to take in the sights here, so it would be remiss not take make other plans for spending your time in the area.
Notes on travel to Oyama Rice Terraces (大山千枚田)
We made our visit to the rice terraces just after the paddies had been irrigated. While each season at the terraces has its distinct appeals, we'd venture to say that this post-watering period, before the rice has been planted might be the most attractive. It may also provide the opportunity for some amazing sunset / sunrise shots with the tentative light magnified by the water.
Roughly, the seasons for the Oyama Rice Terraces are as follows:
April to May: filled with water, rice planting begins
June to July: shoots growing
August to Sept: peaking and harvest
Dec to Feb: winter (expect lots of browns and the occasional covering of frost and snow)
In autumn (usually in September) keep a look out for the "night matsuri" which sees the terraces lit up with around 3,000 warm lamps.
There is little in the way of shopping and services around the rice terraces nor is there a visitors center as such.
This post is supported by Lucky WiFi, one of City-Cost's Supporters helping City-Cost bloggers to enjoy life in Japan and engage in new experiences.
---