Feb 19, 2018
Yudanaka & Shibu Onsen: hot spring experiences in the heart of Nagano
Life centers around hot springs for the charming towns of Yudanaka and Shibu Onsen, in northern Nagano Prefecture. In a welcoming Yamanouchi valley, sat beside the tumbling waters of the Kakuma and Yokoyu rivers, these two onsen towns delight in offering tired bones a replenishing soak, but appear to be heading in different directions.
For the Japan urbanite Yudanaka and Shibu Onsen might appear remote, but these two towns sit on an important pilgrimage route between Kusatsu Onsen in Gunma and Zenkoji Temple in what is now downtown Nagano. The locals here have been welcoming weary travelers for hundreds of years, and they've been blessed with some of Japan's finest onsen waters to do it.
What a difference a train station makes, though. Yudanaka has one and Shibu Onsen, although only a 30-min walk further up the valley, doesn't. Perhaps it's this transport connection that has seen the two towns develop in different ways, each with its own charms.
Maybe the term "develop" is a misrepresentation of what's going on in Shibu Onsen -- this place appears have been frozen in time, and is all the more charming for it. To the point of heartbreak.
It's with a certain ironic symbolism then that the main road to Shibu Onsen, running besides the banks of the Yokoyu, literally leads to nowhere. It just stops at the edge of town, a point where the narrowing valley forbids it to go any further.
Even more symbolic, perhaps, is that few people seem to care about this road. What action there is in Shibu Onsen centers around the impossibly charming and narrow alleys hemmed in between river and valley walls -- natural elements that appear to have guarded against the passage of time.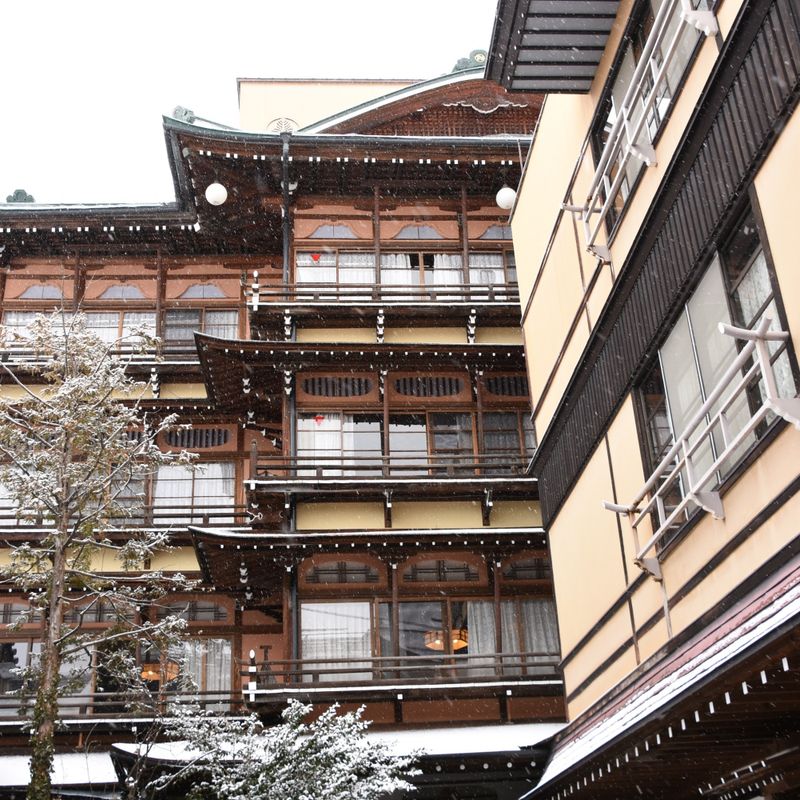 (The ryokan Kanaguya by night and day)
In this warren of streets lies the centerpiece of Shibu Onsen's time-stopped charms, the ryokan Kanaguya (金具屋). Displaying the kind of fantastical imagination that could reduce the creatives at Studio Ghibli to tears of envy, Kanaguya is almost hard to contemplate such is its tangled intricacy. Established some 260 years ago as a blacksmiths ("kanaguya" translates to "hardware store"), a landslide laid waste to the original structure leading the entrepreneurial owners to rebuild it as a blacksmiths come onsen ryokan. The former was phased out and the structure that stands today dates back to the 1930s, a designated Important Cultural Property. Thankfully the owners have had the good sense to leave things as they are. Perhaps the rest of the townspeople are following suit.
For many, a visit to Shibu Onsen means a tour of the town's public hot spring baths, the "soto-yu." There are nine of them dotted about town, most on the same street as Kanaguya. Each boasts of waters to cure or ease some physical ailment -- from eye disease to intestinal problems, gout to neuralgia. Yukata wrapped bathers clip-clop from bath to bath in their ryokan-issue getta in a, thoroughly relaxed, bit to take a dip in all nine baths and then pay a visit to Takayakushi Shrine, sitting on a lofty perch above town, in order to be rewarded divine favors and the eternal life.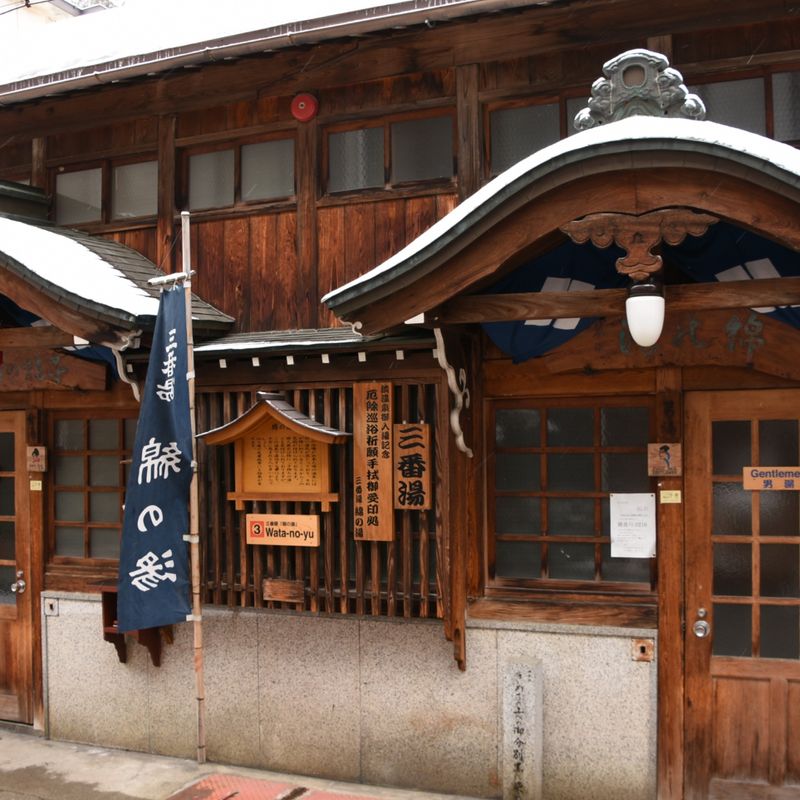 (One of the nine public hot spring baths in Shibu Onsen)
It's surely only in a town like Shibu Onsen, where time has gone missing, that one's central pursuit can be that of utter relaxation. Collectors can purchase "junyoku towels" at souvenir shops and ryokan on which to collate stamps from each onsen. Evidence of achievement, should eternal life not be enough.
Getting naked in front of nine differing sets of strangers might be a challenge for many foreigners visitors. Not to worry, the streets leading to each of the baths are themselves so soaked in charm as to be reward enough, particularly in the evening when the warm glow of the street lamps and the old-world flourishes of the ryokan conspire to create an atmosphere that is as romantic as it is haunting.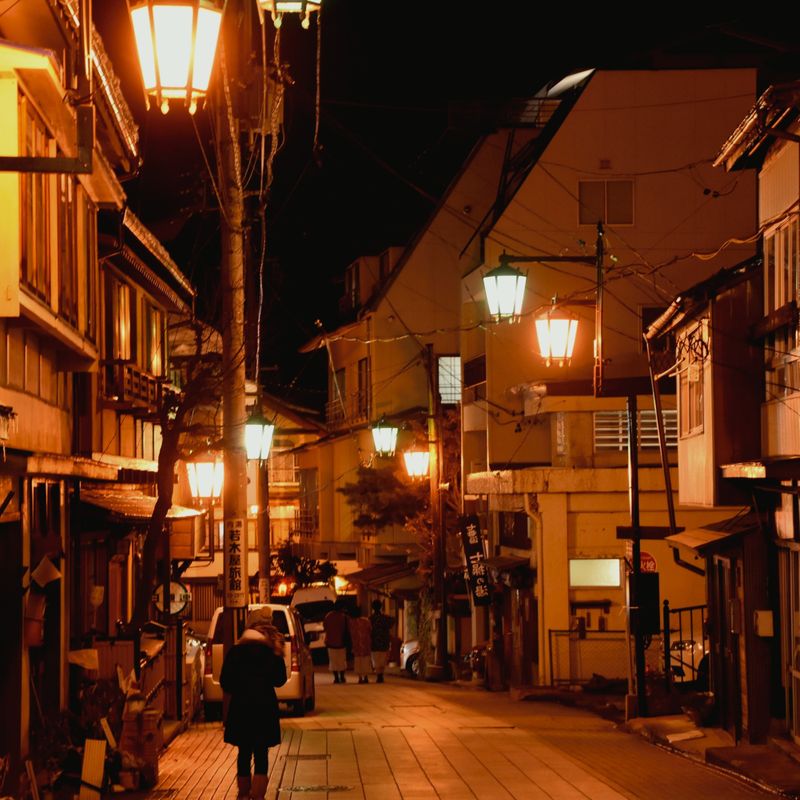 Those visitors who would like to put their legs to work will enjoy exploring Onsenji Temple in the east of town and the quaint, pint-sized shrines dotted along the narrow trails and walkways that cling to the steep sides of the valley on the northern edge of town.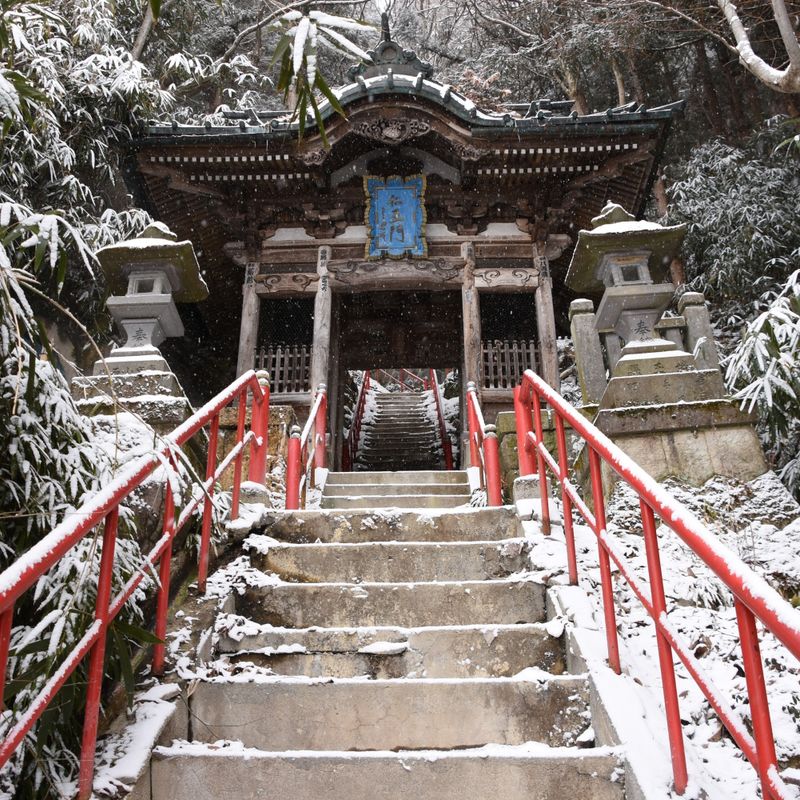 (Temples and shrines in the edge of town reward exploration)
The presence of a train station at Yudanaka (the last stop on the Nagano Electric Railway line from Nagano station) appears to have given the town a different sense of duty. Yudanaka can't afford to ignore time, people here have schedules to keep, commutes to be made, and tourists to help reach the surrounding ski resorts, trailheads, and the bathing monkeys at Jigokudani.
Consequently, there's much more of sense of a regular town at work in Yudanaka -- a place that has had to reach a compromise between convenience and charm.
And it seems to be getting the balance right. South of the station, Route 342 leads the way to places where things that have to get done, get done. The streets north of 342 take things at a much slower pace (not that anything really moves fast in these parts) taking visitors through an area of town that, while not on the same scale of charm as Shibu Onsen, is more than enough to warrant attention. Legendary haiku poet, Issa Kobayashi, did frequent these parts afterall.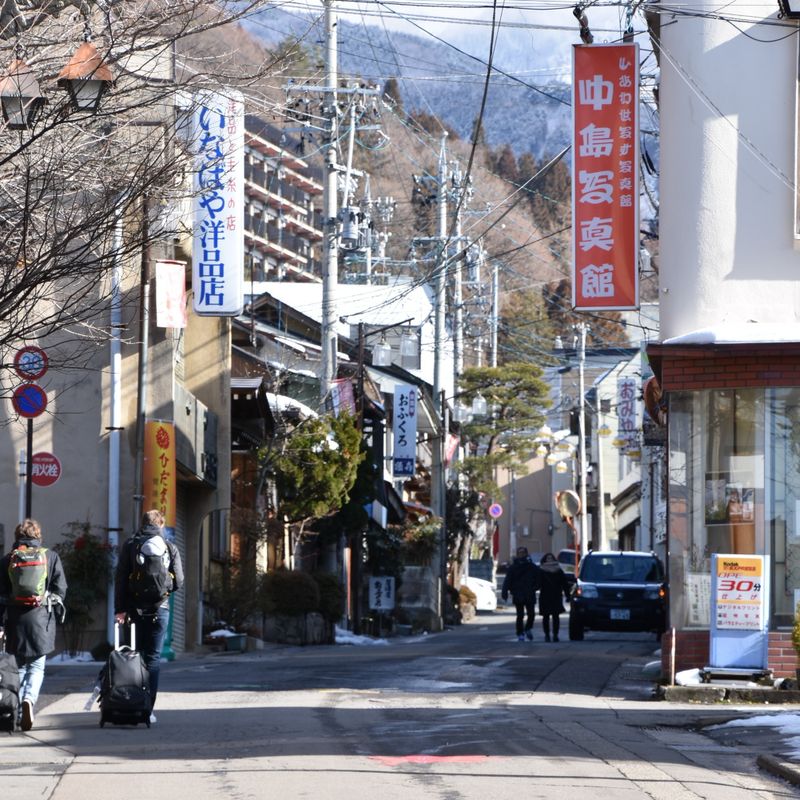 The street that runs from east to west on the northern edge of Yudanaka is perhaps the town's most pleasant. Here modern, western eateries, bars and youth hostels do a good job at keeping a sense of old traditional Japanese style while extending an easy, familiar welcome to the modern traveler with snowboarding and mountain adventure on the mind. Old public baths, ryokan, and a temple serve as charming reminders that Yudanaka is still an onsen town at heart.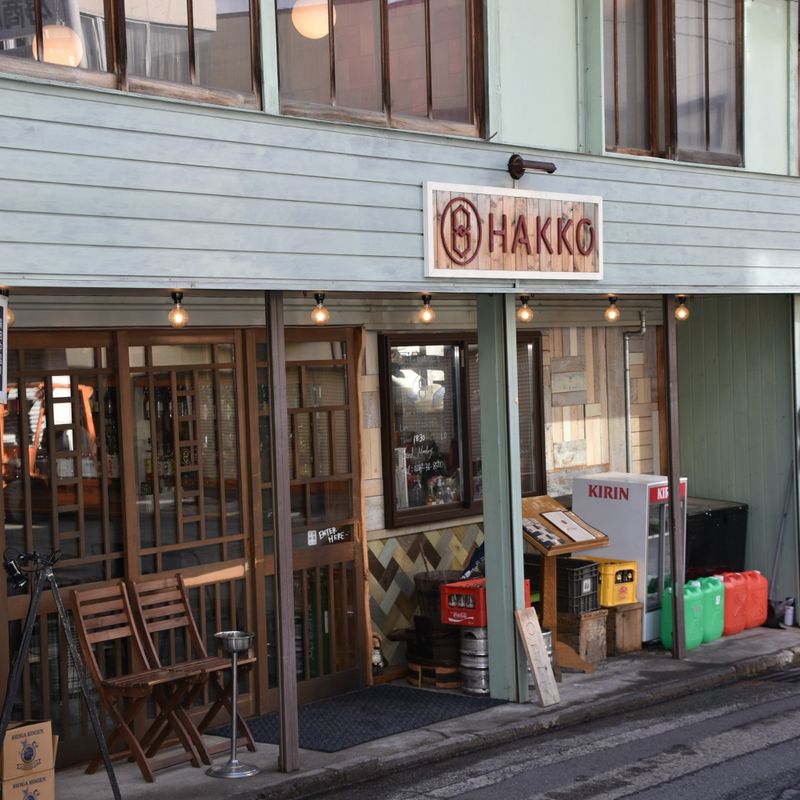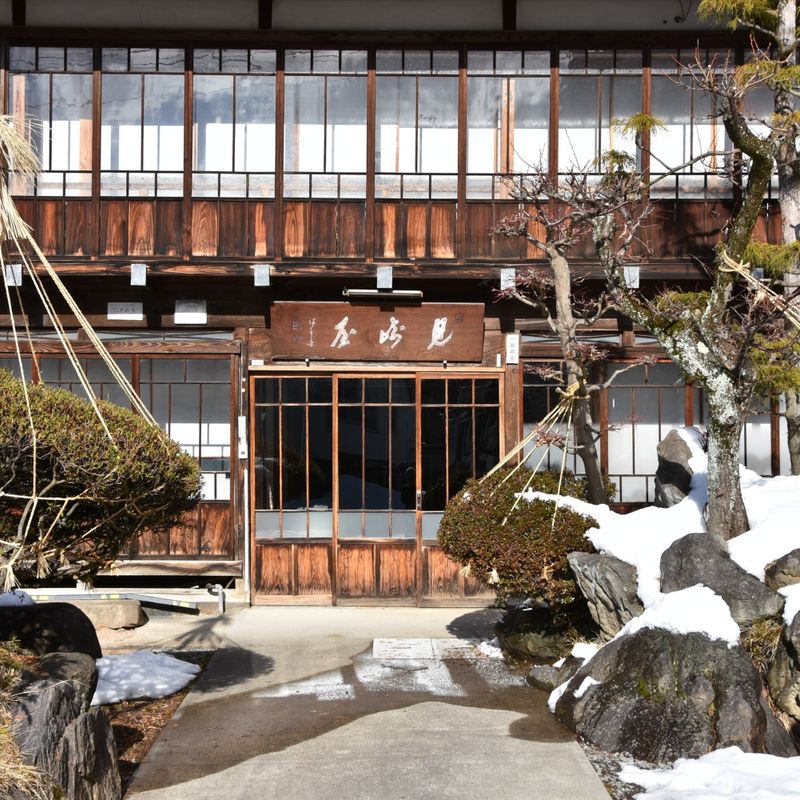 (Modern and traditional mix on the streets of Yudanaka)
Despite having only one platform, Yudanaka station, in winter at least, is a hub of some activity, with English-speaking volunteer guides hurrying to help arriving / departing passengers most of whom are from overseas.
This might be a community sprung from hot spring waters but the modern pursuits of adventure for the sake of adventure, and skiing / snowboarding are also a major draw -- the slopes and resorts of Shiga Kogen are an easy drive from here, and many people are choosing Yudanaka as their accommodation option. Even in Shibu Onsen ryokan lobbies are furnished with stands for winter sport gear, and in the evenings the luminous colors of snow / ski boots are a sharp contrast to the subtle interiors as they lie around stoves getting dry.
For now, Yudanaka is something of a buffer between Shibu Onsen and the relatively new visitors to these parts, and it seems to be relishing the work. Just how long it will be before things reach saturation point and Shibu Onsen has to take up some of the strain, remains to be seen.
Notes about travel to / around Yudanaka and Shibu Onsen
Most of the everyday shops and services are to be found in Yudanaka, which has a convenience store outside of the train station. Shibu Onsen has a couple of grocery stores selling snacks, soft drinks, alcohol, and daily essentials that close around 21:00.
While most visitors to these onsen towns will be eating dinner and breakfast as part of their ryokan stay, both have some charming restaurants and cafes to cover breakfast, lunch, and dinner.
In Shibu Onsen, Ryokan Association hotels are permitted to give guests a key for the nine "soto-yu" public baths, all of which are free for ryokan guests. Of the nine, only "O-yu" (大湯 / No.9) is open to day-trippers (between 10:00 - 16:00). Purchase a 500-yen ticket at the Shibu Onsen Information Center.
Shibu Onsen is about 25 mins on foot from Yudanaka Station. Buses run from Yudanaka station to points in Shibu Onsen between 7:10 and 18:53. Fares are 210 yen. There is a taxi stand / office right outside Yudanaka station. Fares to address in Shibu Onsen from ~1,200 yen.
This post is supported by Lucky WiFi, one of City-Cost's Supporters helping City-Cost bloggers to enjoy life in Japan and engage in new experiences.
---